The Blast and its partners may earn a commission if you purchase a product through one of our links.
We're always looking to step up our skincare game. Lately, skincare wands have been generating a lot of buzz. These beauty tools increase your skin's absorption of skincare products like cleansers and moisturizers to maximize their effects on your skin while reducing redness to create a healthy, radiant glow.
Skincare wants might give you skin some extra TLC, but they normally do so with a hefty price tag. Fortunately, we've rounded up a few gems with up to 40% off in savings on Amazon. Now is the perfect time to revamp your routine and try it out.
Expand your skincare routine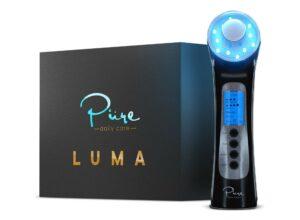 Pure Daily Care Luma – Four-in-One Skin Therapy Wand: $67.95 / 28% off (Orig. $94.95)
This Four-in-One Skin Therapy Wand boasts four powerful modes to help with anti-aging, skin firming, and more. The first two modes are LED Light Therapy and Wave Penetrating Cell Stimulation. Its LED Light Therapy mode uses red light for anti-aging properties, blue light to calm the skin, and green light to improve its overall complexion. The second mode's Wave Penetration technology gives your skin a workout to lift and firm it while maintaining its natural moisture and stimulating collagen and elastin production.
Use the Ionic and Massage Therapy modes to remove dirt and impurities or to apply serums deeper into the skin for better absorption all while massaging the facial muscles. Customize your own routine with a built-in timer and conveniently use it cord-free thanks to the charging battery In short, this skincare wand does it all. Don't miss this all-use wand for nearly 30% off on Amazon.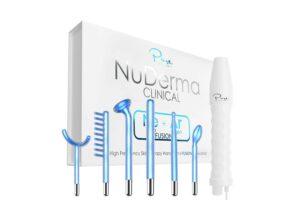 NuDerma Clinical Skin Therapy Wand: $149.95 / 17% off (Orig. $179.95)
NuDerma Clinical Skin Therapy Wand is a clinical-grade system that comes with FUSION applicators to provide skin-enhancing neon for anti-aging effects and argon to fight inflammation and combat blemishes. These two work together to leave your skin radiant and glowing.
This wand drastically improves your skin's absorption so you can get the most out of the rest of your skincare routine. The six applicators are specialized for use in different areas of your body. For instance, grab the Y-shaped applicator for your arms and neck, then the rod applicator for broad areas like the forehead and cheeks, and finally the supercharged comb to provide scalp treatment. Find yours on Amazon at a 17% discount now.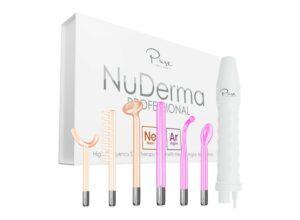 NuDerma Professional Skin Therapy Wand: $76.45 / 41% off (Orig. $129.95) 
Like the product above, NuDerma's Professional Skin Therapy Wand uses the power of argon and neon in its six beauty wands to improve the skin's overall appearance. Notably, check out these wands' high-frequency application to not just boost your skin's health, but also to work to restore the youth of your skin without an expensive visit to a dermatologist.
After using the Professional Skin Therapy Wand, you won't have to worry about not getting the most out of your high-end skincare products. It fosters a stronger absorption of serums and creams, saving you money on new products and peace of mind that your skincare routine is on track to deliver breathtakingly smooth skin. This powerhouse by Nuderma is on sale by over 40% on Amazon today.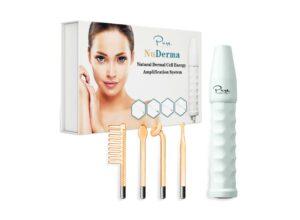 NuDerma Portable Handheld High-Frequency Skin Therapy Wand Machine: $69.95 / 22% off (Orig. $89.95)
As we get older, Adenosine Tri-Phosphate (ATP)production slows down and leads to outward signs of aging. The NuDerma Portable Handheld High-Frequency Skin Therapy Wand Machine increases cell production by supercharging ATP to slow down the size of aging to reveal firmer, younger skin. 
This product includes four neon-powered applicators to deliver high-frequency applications directly to your skin and increase cellular activity, giving your skin a workout to help reduce the appearance of fine lines and wrinkles. These high-frequency applications also address the underlying problems that cause blemishes to reveal smoother, brighter skin. Don't miss the 22% sale to get your own NuDerma Skin Therapy Wand Machine for just $69.95 on Amazon.
There's never been a better time to add to your skincare routine. Each product provides your skin with anti-aging benefits and increases skin absorption so products can penetrate deeper. Enhance your skincare routine and save up to 40% off. It's an investment worth making, but these deals won't be around forever, so act fast.