On June 25th, at Glastonbury 2022, Olivia Rodrigo took the stage and blasted the five justices of SCOTUS for its decision to overturn Roe V. Wade. Her message was an impassioned speech and then she and Lily Allen performed the song "F*** You", dedicating it to the judges.
Fans were moved by her willingness to tackle the delicate topic on stage and speak her mind, and now Rodrigo and Allen both have a message to share, on Instagram.
Olivia Rodrigo Tells SCOTUS 'We Hate You'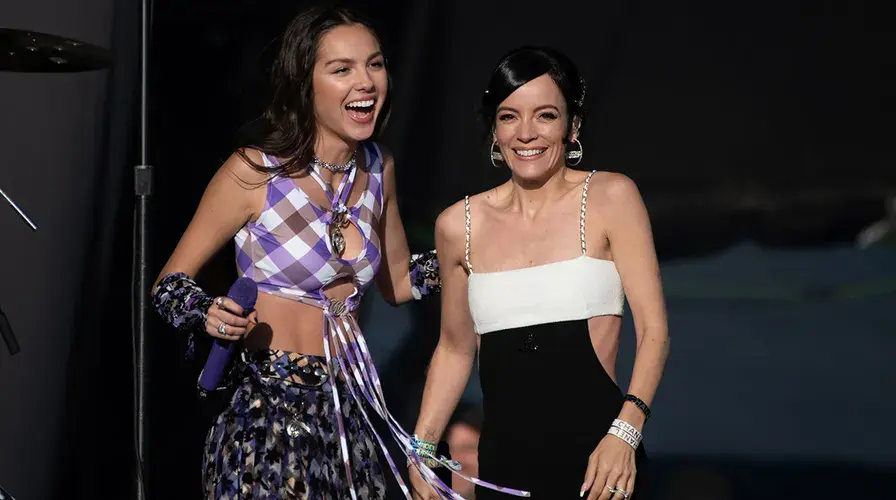 19-year-old "Good 4 U" singer Olivia Rodrigo was definitely riled over the recent overturning of Roe V. Wade. On Friday, June 24th, SCOTUS announced that Roe V. Wade was now overturned, in a 5-4 decision. This means that now, each state can make its own decision about legalizing abortions or changing the laws. 26 states are likely to ban or make laws about abortion more severe in the coming weeks. Many states had trigger bans in place and some states carry no exception even in the cases of an impregnation resulting from rape or incest.
If a woman gets pregnant in these states, by law, she has to carry the baby full term. If she seeks an abortion, say in the state of Texas, she can be given a life sentence in prison.
The US is now divided between the red and blue states where blue continues to be liberal and the red is conservative and stripping away women's rights like they never mattered.
Here a (devastating) map showing the states that are expected to implement #AbortionBan

Read more at @Reuters by @EmmaBatha https://t.co/rghenONfZd #RoeVsWadeOverturned pic.twitter.com/oIWwhyLqmZ

— Aina Roca-Barceló (@AinaRocaB) June 26, 2022
On Saturday, at the Other stage in Glastonbury, 2022, Rodrigo addressed the thousands in the audience, saying: "I'm devastated and terrified. So many women and so many girls are going to die because of this. I wanted to dedicate this next song to the five members of the Supreme Court who have shown us that at the end of the day, they truly don't give a shit about freedom."
The audience cheered for her wildly as Rodrigo continued: "The song is for the justices: Samuel Alito, Clarence Thomas, Neil Gorsuch, Amy Coney Barrett, Brett Kavanaugh. We hate you! We hate you."
Olivia Rodrigo & Lily Allen Sing 'F*** You' To SCOTUS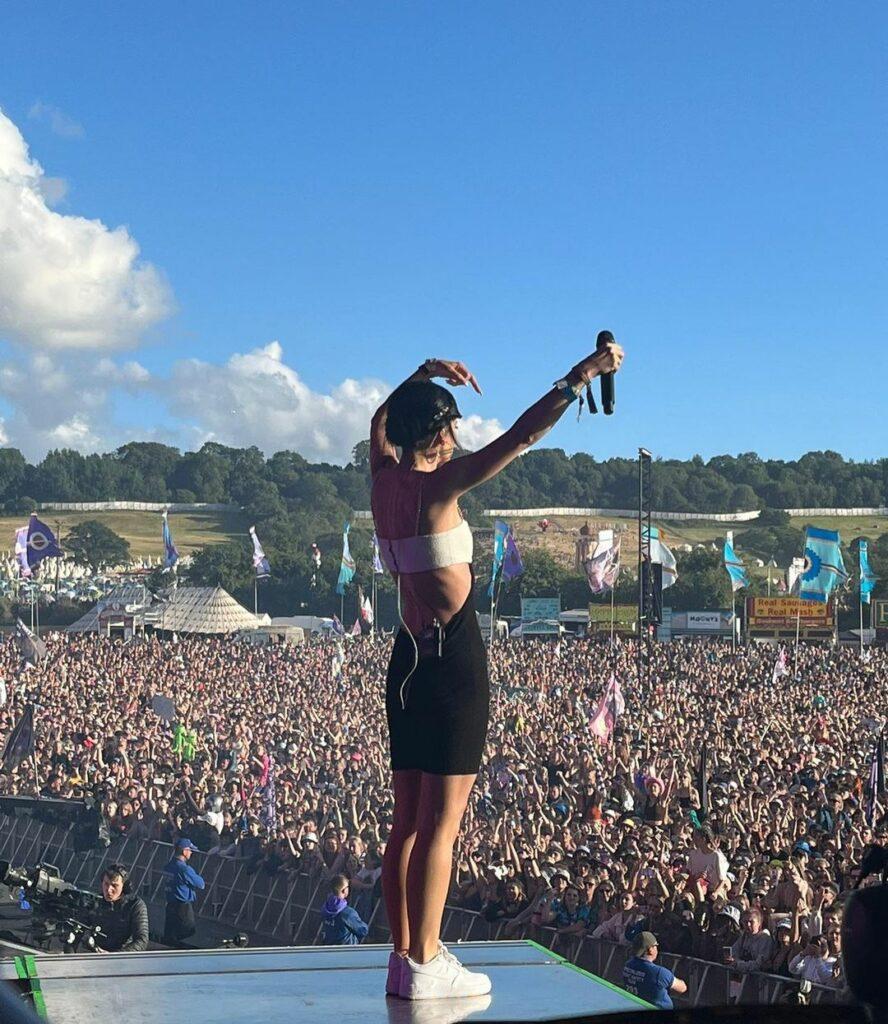 As Rodrigo listed out the judges' names, Lily Allen stood beside her, showing each name the finger. The duo broke into Lily Allen's 2009 hit, "F*** You" with Allen leading the vocals.
Before the iconic rendition of the song, Rodrigo spoke highly of Allen, saying, "This is actually my first Glastonbury and I'm sharing this stage with Lily, this is the biggest dream come true ever. But I'm also equally as heartbroken about what happened in America yesterday."
Here's Olivia Rodrigo giving the speech as she and Lily Allen give the five justices of SCOTUS the finger and a very obvious message.
olivia rodrigo at glastonbury name dropping the justices of the supreme court who voted to overturn roe v wade "we hate you" and then singing fuck you by lily allen to them yea that's my girl. pic.twitter.com/BueiLOApNx

— bri (@strawberritom) June 25, 2022
The streaming services also carried a message:
NOT THE DISCLAIMER?? pic.twitter.com/LvVhz0gqQh

— bri (@strawberritom) June 25, 2022
Lily Allen also took to Instagram to express her emotions over the performance, writing, "Quite emosh. Things are truly messed up, but at least my babies got to see their mamma play and slay Glastonbury with their favorite pop star. They were very proud and so was I. I didn't know whether I'd be able to get up on a stage like that sober again if I'm honest, a part of me thought it was all in the past. I had the most amazing day."
She also thanked Olivia for having her, and wrote, " You smashed your first Glastonbury. Who knows, maybe I won't hang up my 🎤 just yet. "
View this post on Instagram
Olivia Rodrigo Felt It Was A Day She Would 'Never Forget'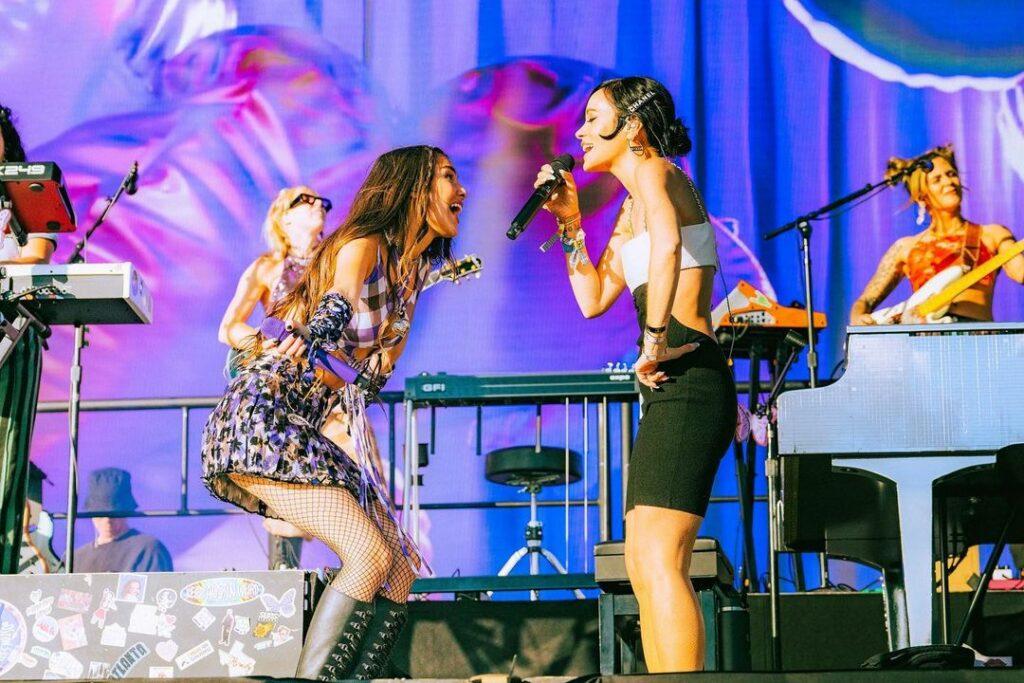 Rodrigo responded to Lily Allen on her Instagram post with "I love u soooo much ur amazing."
She also took to her own Instagram to write, "Glastonbury was magical!!!! huge thanks to Lily Allen for sharing the stage with me and helping share such an important message. a day I will never forget."
Fans were overwhelmed by her performance, writing:
"I loved your speech, it is so inspiring to see you speak in a large crowd."
"We are so proud of you for standing up for what's right!!!"
Here's Olivia's post:
View this post on Instagram