Demi Rose Mawby gave fans an eyeful of her assets in a steamy clip!
The famous influencer sent temperatures soaring on Instagram with a scorching bikini video wherein she put all of her perky assets on display. Demi flashed the flesh in a purple string two-piece swimsuit that left little to the imagination, serving up a sexy show of her gorgeous curves from various angles.
Letting The Twins Hang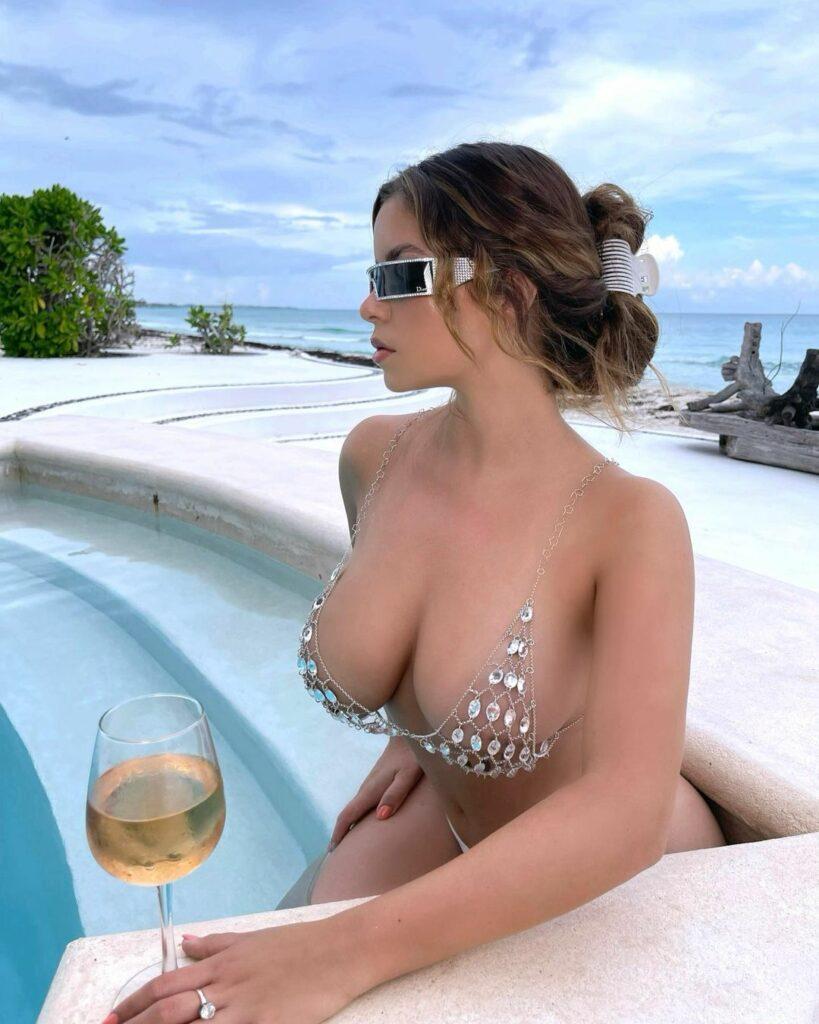 Long-time followers of Demi know that she is hardly shy about rocking skimpy swimwear, but her latest look may be one of her raciest sets yet. She opted for a minuscule halter-style top that was hardly enough to contain her voluptuous chest, leaving her ample assets almost completely exposed as she worked the camera. A daring amount of sideboob and cleavage still came spilling out of the barely-there piece, giving the footage a seriously seductive vibe.
Very little could be seen of Demi's bikini bottoms, but she appeared to be wearing a sequined wrap skirt in a light green color. The gap between the ends displayed more of her right thigh. Long thin straps sat high up on her hips, accentuating her tiny waist and voluptuous frame. Fans could also get a peek at her taut stomach from the angle, much to their delight. She added a gold belly chain with tiny D's hanging all over it.
Showing Some Jaw-Dropping Views
Demi took the video herself — holding the camera with her left hand and extending her arm away from her to get the best angles possible. The 27-year-old smiled at the lens, which she then directed down to give her audience a tantalizing view of her bikini body. She brought the camera back up to her face to show off her stunning makeup look. The application included a pink blush on her cheeks, a shimmering highlighter on the inner corners of her eyes, and a light eyeshadow. In addition, she had black mascara on her lashes, a sleek cat eye, and pink lipgloss on her plump lips.
The model from Birmingham had her brunette locks styled straight with some waves. Two small sections in front were braided — framing her face.
Quenching Her Thirst
Another video showed Demi enjoying a drink while onboard a yacht. It seemed like the social media sensation mixed work and play this time as she had her makeup done in the power vessel. A smaller boat and a jetski were also spotted in one of her clips.
While Demi certainly loves slipping into a bikini, she also tantalizes her followers with other sexy looks. The model recently sent temperatures soaring as she flaunted her naturally large bust in a white flowy dress. Fans were thrilled by that showing of skin as well, awarding the snaps more than 159,000 likes and over 1,600 comments to date.
Happy In A Bikini
As per the geotag, Demi had the pictures taken in Ibiza — her current residence after leaving the UK in 2020.
Demi opened up to the Evening Standard about her move to the Balearic island. During the pandemic and the lockdown, she was living alone, and it greatly affected her mental health.
"I had up and down days, and with so much time on my hands, I obviously had a lot of time to reflect on things," Demi said. "I felt very sad."
Making Juicy Content
She continued, "I have loads of friends out here, the weather is nice, and it is a perfect backdrop for my modeling work," adding, "And the connections I have made through living here have introduced me to the wonderful team who are behind this video."