Kylie Jenner recently got married and had a special somebody by her side! As you might know, the entire Kardashian-Jenner clan was invited to the 2022 Met Gala for the first time ever.
Although Kylie and Kim Kardashian are regulars at the prestigious gala, it was the first time for Kourtney Kardashian, Khloe Kardashian, and Kris Jenner.
For this year's gala, Kylie stunned in a glamorous wedding dress and casual shirt ensemble from the late Virgil Abloh's brand Off-White.
In a recent YouTube documentary, Kylie took fans along as she got prepared for the big night and gave them a surprise peek at her infant son.
Kylie Jenner Gets Ready For The Met Gala!
On Wednesday, May 4, Kylie released a 9-minute-10 second clip of her almost-month-long preparation for the big event. The clip began, showing the young entrepreneur declaring her theme as "Married To The Met" as her mini-me Stormi Webster stood next to her.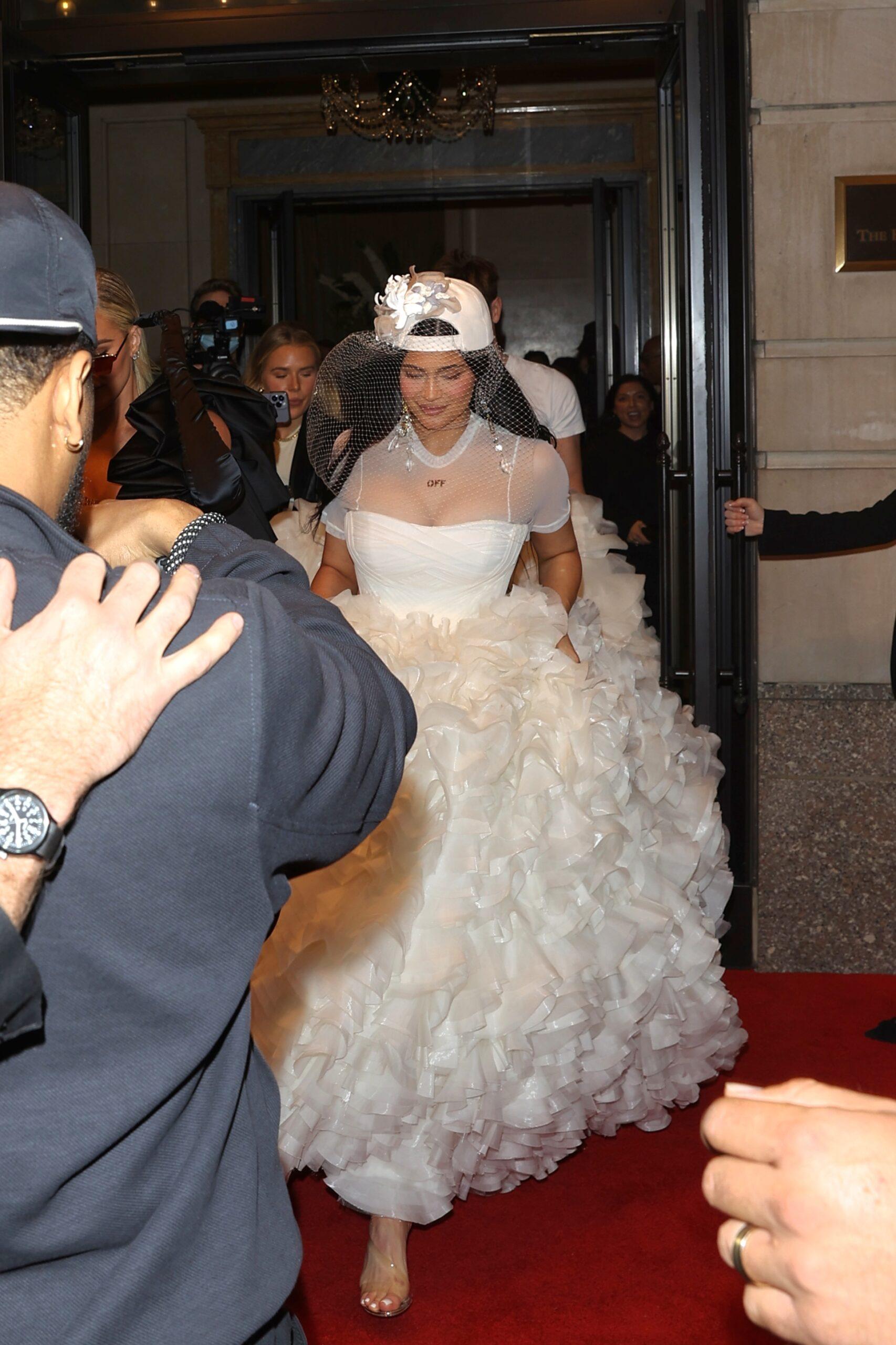 Soon, fans are taken to Milan where Kylie chose the outfits she was going to wear to the Met Gala and its after-party. On April 14, the reality star had her first fitting, and as we can see it went well.
Fast forward to the day before the big night, Kylie and the fam jet off to New York in a private jet, and of course, Stormi is by her mother's side
It's indeed a family event as Kris and her boyfriend Corey Gamble alongside Khloe are on the private plane. The clan is so excited to go to the Met that they have a little playful chant, saying "we're going to New York!"
Khloe and her sweet niece Stormi share a sweet moment as she complements Kylie's nails before the foursome has a cute hands-in moment on the plane.
While on the jet, Kylie films a mini-vlog telling fans she's a bit nervous about this year's Met Gala as she has been absent for two years due to several reasons, but she's excited nevertheless.
Kylie's Son Makes A Rare Appearance
Finally, we get to see the big moment, as Kylie briefly gives fans a peek at her son, whose name remains unknown.
At the 2:42 time stamp, Kylie shows off her son's beautifully adorned feet as he's strapped into his carrier. The little one already exudes wealth and impeccable fashion sense, wearing what looks like brown Jordan sneakers with grey sweats.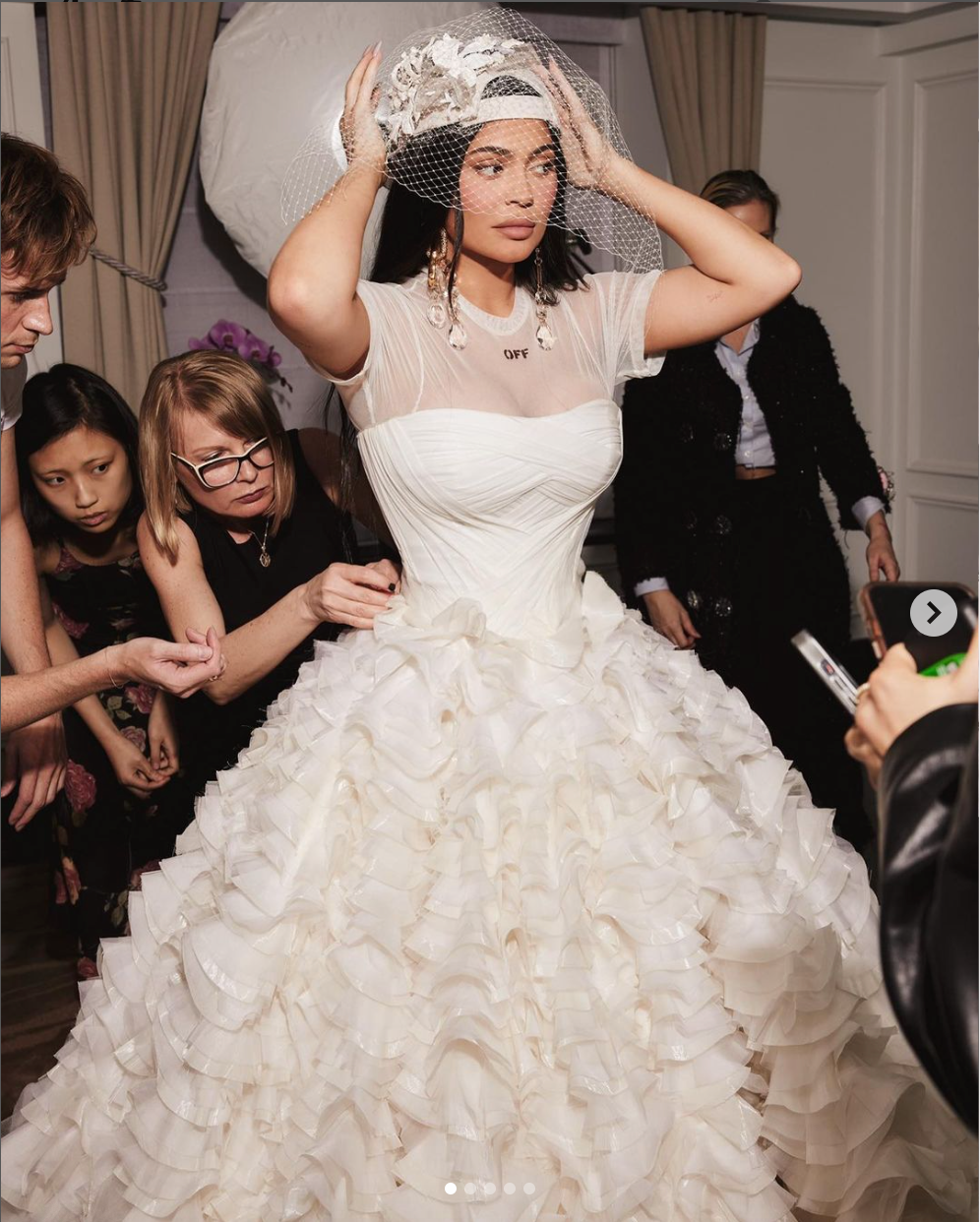 The doting mother gushes as she fondles with her baby boy's feet, "Look at my son's cute shoes! He can't even walk in them!"
Kylie welcomed her second bundle of joy with baby daddy Travis Scott in February to the delight of fans and days after breaking the news introduced him to the world as Wolf Jacques Webster, as covered by The Blast.
However, fans were met with shock when about a month later, Kylie and Scott retracted their son's name for reasons undisclosed. The parents are yet to reveal the new name of the infant.
The 'Life Of Kylie' Star Got Married To The Met For This Reason
For the rest of the clip, we see Kylie get her second fitting, with her family around, including sisters Kendall Jenner and Kim Kardashian. We also get to see Kim in the process of dyeing her hair, something she did for over 10 hours.
On the morning of the Met Gala, Kylie does her skincare routine and her glam team gets to work as she explained her chosen look.
Kylie shared that she was hesitant to come for this year's event and only decided on it at the last minute for just one reason.

"The only reason I came to the Met this year, to be honest, I decided really last minute, that I wasn't going to go unless I can go and honor Virgil…and I'll wear Off-White… That's the only reason I would go."
Kylie reiterated this when she shared pictures of her look on Instagram alongside a caption that read, "Virgil and I were supposed to go to the Met together before it got postponed in 2020. to celebrate V tonight and his incredible legacy truly means the world to me. I'm humbled to wear this dress and honor my talented beautiful friend. we felt you tonight Virgil and love you forever ♾
& thank u to the entire @off____white team !!"