Host Nick Lachey may really be regretting bringing on this contestant!
"Love is Blind" season 2 contestant Abhishek Chatterjee, better known to fans at Shake, has made frequent shots at "The Masked Singer" winner, including hitting on his wife, Vanessa Lachey, right in front of him.
Shake continued to fire shots at the 98 Degrees boybander on his Instagram Stories by resurfacing an old clip of Nick with ex Jessica Simpson.
Shake Resurfaces Old Clip Of Nick Lachey Being Rude To Jessica Simpson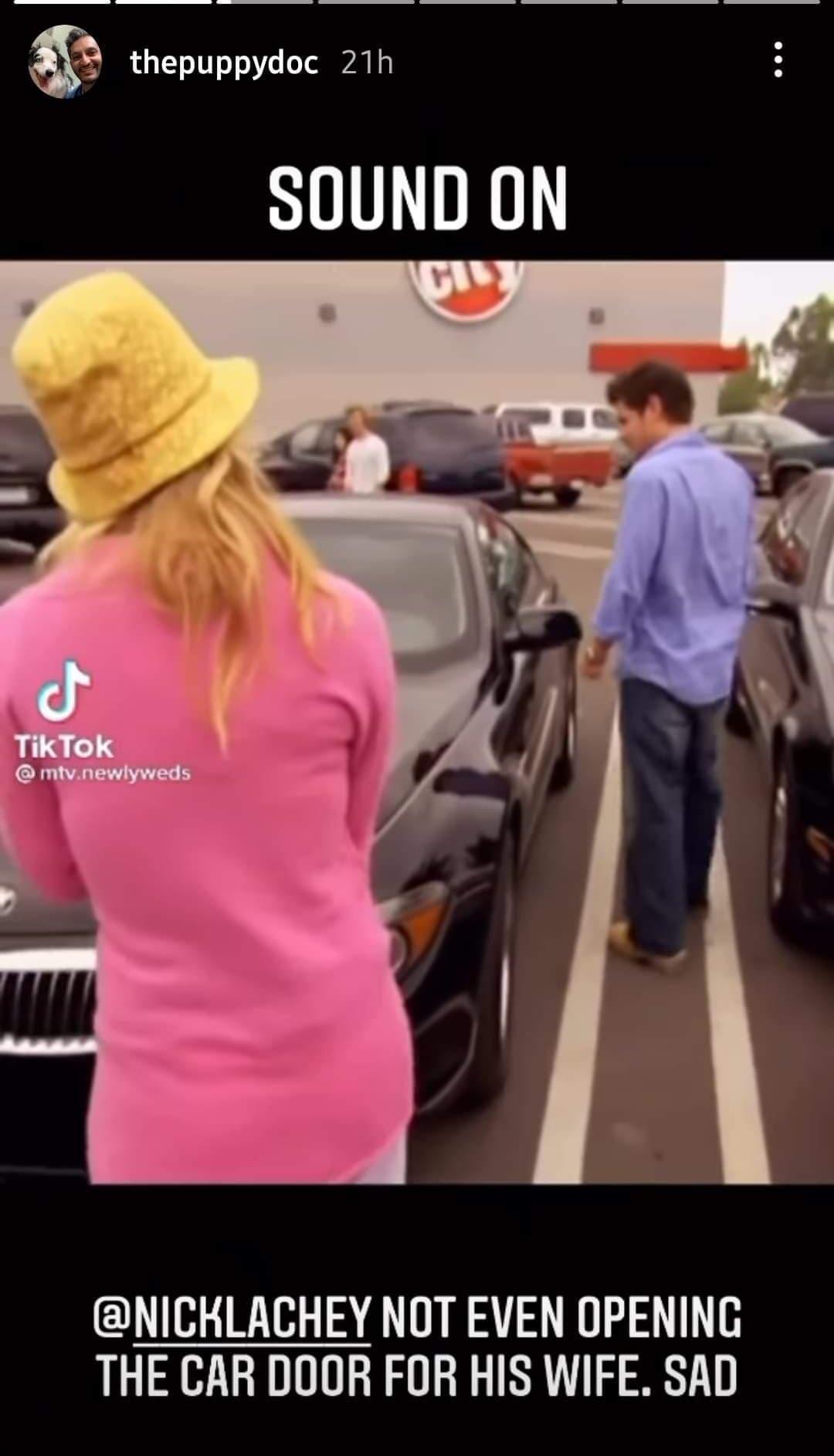 In his Instagram Story, Shake shared a clip from MTV's "Newlyweds: Nick and Jessica." The pair was married to Nick from 2002 to 2006, and the show ran from August 2003 until March 2005.
"Sound on," he wrote on the video. "@NickLachey not even opening the car door for his wife. Sad."
In the video, the two are both getting into their car, which is located in a parking lot.
Jessica asks her then-husband, "You don't want to open the door for me?"
"No," Nick replies.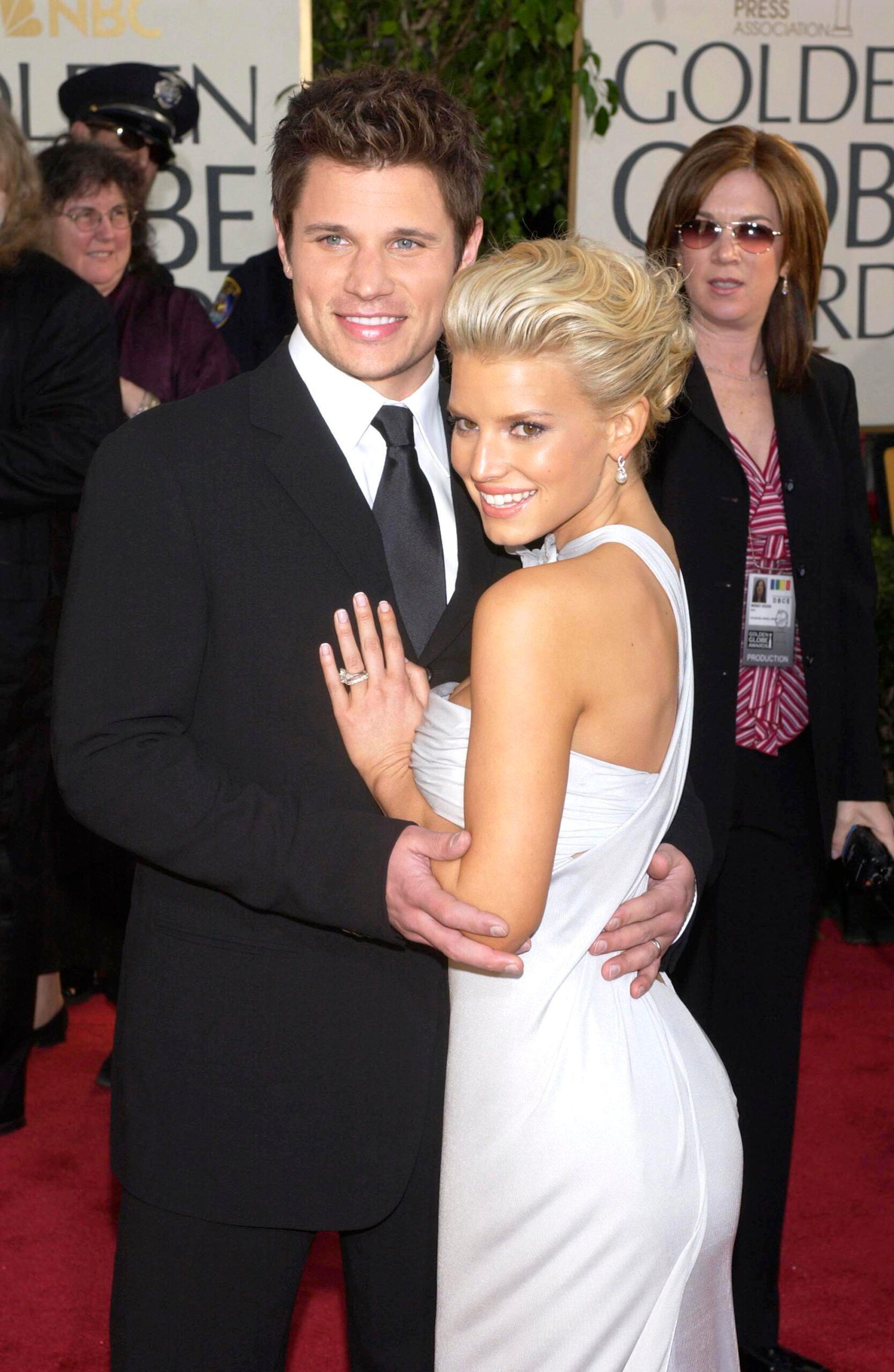 "At the beginning of our marriage, you were so eager to open the door for me," Jessica recalled.
"That's because at the beginning of our marriage I got laid," Nick snaps back.
It's a cringey look for Nick, but plenty of fans think it looks just as bad for Shake to post it at all. Nick married his current wife Vanessa in 2011 and Jessica married NFL star Eric Johnson in 2014. However, this isn't the first time that Shake took aim at Nick. He also called him a "massive twat" in a now-deleted Instagram post.
Shake Calls Nick Lachey A 'Massive Twat' Over Reunion Special Feud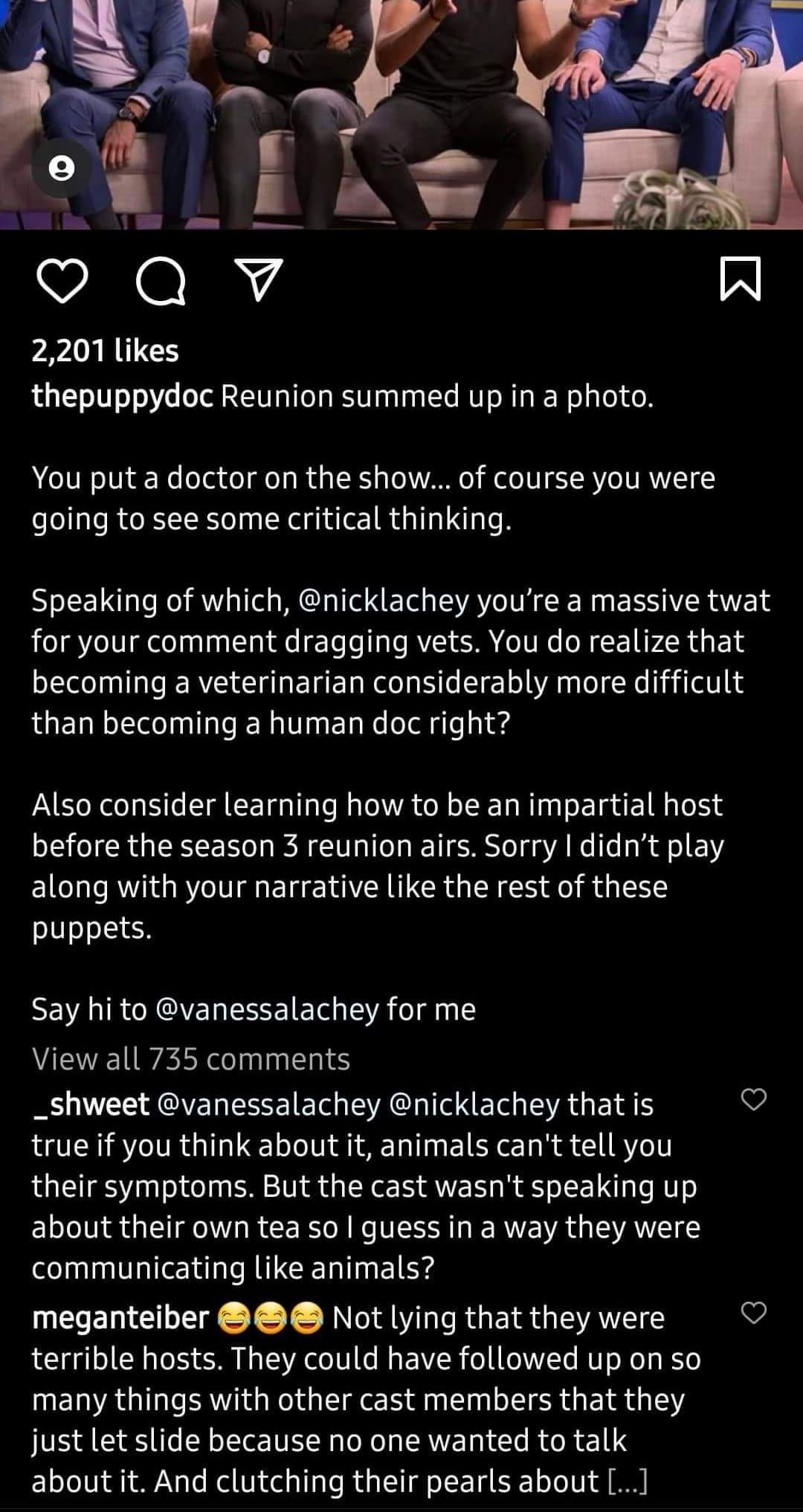 During the reunion special, Vanessa called Shake out for being on the wrong reality show.
"The problem that I have, Shake, is that you sit there and berated every single one of these women physically and then went through the process with this beautiful soul over here all because you wanted someone that you wanted to f—, not fall in love with," Vanessa said. "I'm heated."
Shake doubled down on his comments about finding physical attractiveness, saying, "Every woman here is beautiful. I think you're all beautiful. I'm not attracted to all of you. Unfortunately, the only one I'm attracted to is Vanessa — and I wish I wasn't," he said while the camera panned to Nick's face. "It's nature, baby! We're animals."
Nick quickly countered the veterinarian from Chicago, saying, "No, you treat animals. We're human beings. And I can see now why you don't treat human beings. … I don't like people who treat human beings like you do. It's wrong."
Shake Sarcastically Apologizes To Nick Lachey For Not Following His 'Narrative'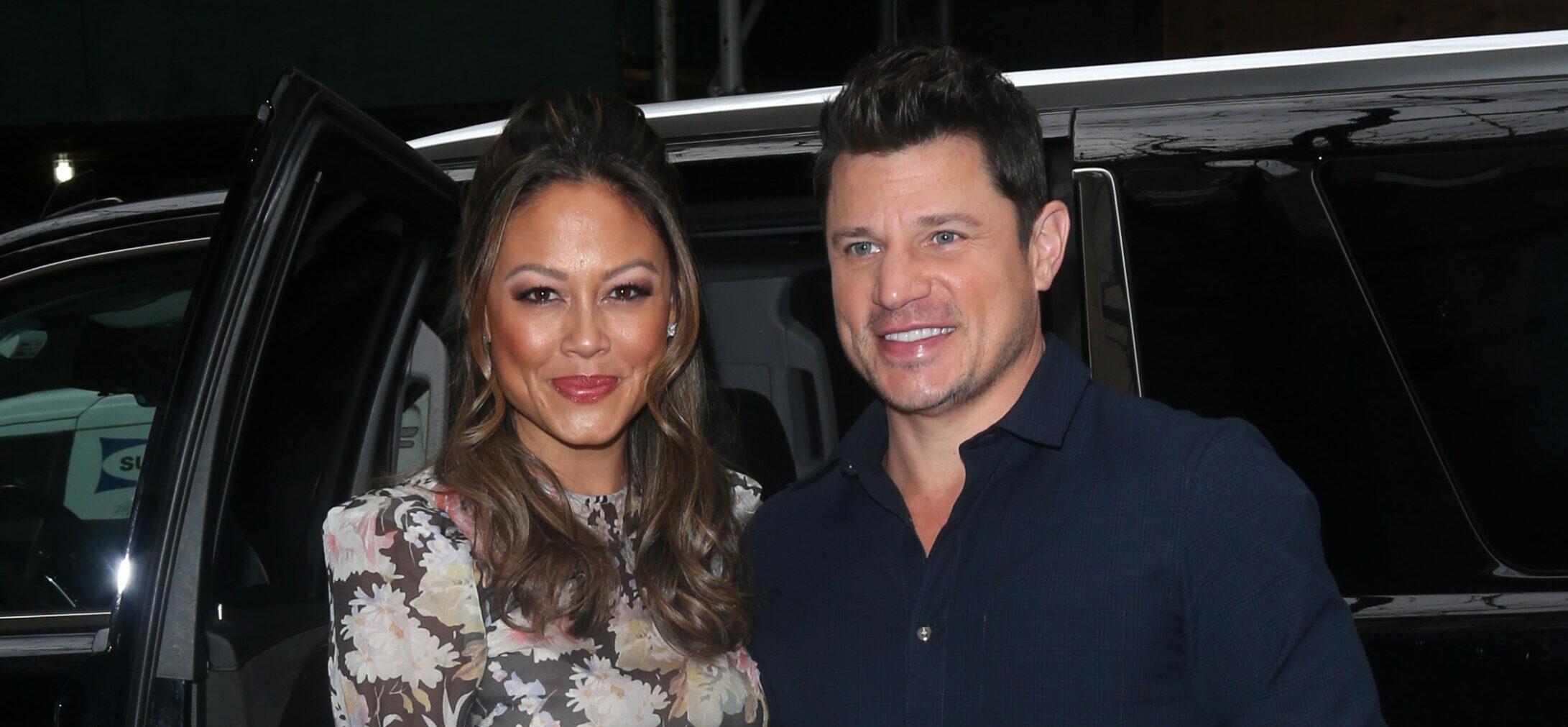 After the reunion special aired, Shake seemed to still be bitter about Nick's comment.
"Reunion summed up in a photo," Shake wrote alongside a snap of him and the others sitting on the couch from the reunion special. "You put a doctor on the show… of course you were going to see some critical thinking."
"Speaking of which, @nicklachey you're a massive twat for your comment dragging vets. You do realize that becoming a veterinarian [is] considerably more difficult than becoming a human doc right?"
"Also consider learning how to be an impartial host before the season 3 reunion airs," he added. "sorry I didn't play along with your narrative like the rest of these puppets."
He closed his message, writing, "Say hi to @vanessalachey" for me."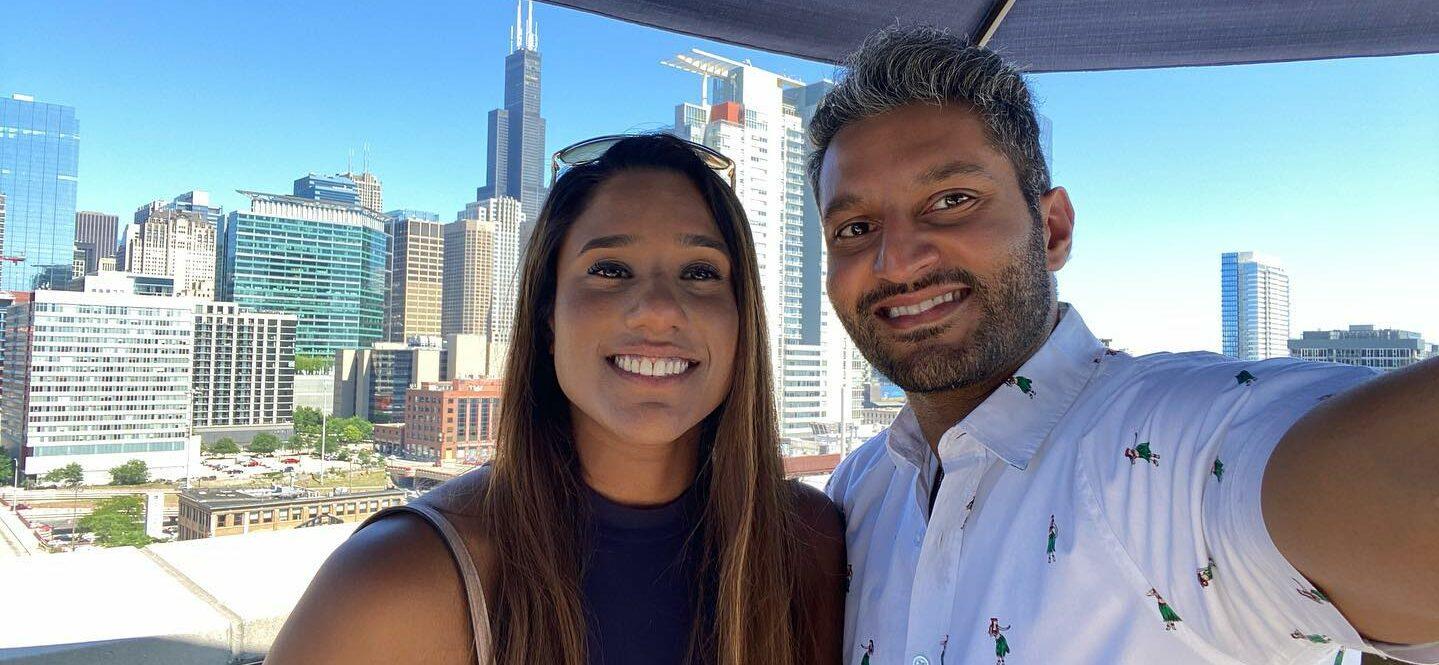 Fans took both sides of the issue, saying that both Nick and Vanessa had a right to respond to Shake's polarizing comments instead of being impartial. Series creator Chris Coelen told Variety that the producers didn't influence the hosts' behavior one way or the other.
"We don't tell them what to say or not to say, it's their thing," he explained. "Shake was jumping in from the word 'go.' Nobody tells him to do that. That's what he decided to do, he wants to get his point of view across and I guess, good for him."
Although fans at home only get to see an hour of content, Vanessa revealed that "we were there for, gosh, three to four hours talking to them."
"I know people are like, 'Oh, I wanna see the other three hours,' [because] you only got the one-hour version, but there's a lot of emotion: both high highs, low lows," she continued. "People were crying [and] people walked off set. Obviously, some of it got aired."