Machine Gun Kelly (MGK) and Megan Fox are holding off on saying "I Do" for some very important reasons.
The couple got engaged on January 11 during a vacation in Puerto Rico. The following day, Fox and MGK announced the news on social media.
They revealed the news with an adorable engagement video that show MGK getting down on one knee and pulling out a diamond ring. Fox falls to her knees and the two embrace with a kiss.
MGK & Megan Fox Are Holding Off On Wedding Ceremony
View this post on Instagram
MGK presented Fox with a very unique diamond ring.
The massive engagement ring consists of a tear-drop-shaped diamond (MGK's birthstone) and emerald (Fox's birthstone) gemstones joined and perched on a silver magnetic band of thorns.
View this post on Instagram
If Fox attempts to take it off the thorns will dig into her skin and draw blood.
Now, there seems to be a common theme of blood in their relationship.
Fox gifted MGK with a drop of her blood held in a pendant which can be worn as a necklace, and now the couple is waiting to find their "blood river" to be married above.
Yes, this is NOT made up.
MGK Wants A Gothic Wedding With Blood-Like River
MGK recently appeared on the "Late Late Show with James Corden" and opened up about his impending nuptials.
When asked about the wedding by the British talk show host, the rocker explained that wedding plans are complicated.
Unlike most brides who have envisioned their big day since childhood, MGK has a very artistic vision that MUST be created for their big day.
"When they can build me like, a red river with like, gothic…" he said trailing off.
"The location is hard. Trying to find a spot that's matching my artistic," MGK continued.
Corden chimed in, "I love the idea of a red river and a gothic setting."
MGK and Fox seem to have a shared interest in all things gothic and gore.
In Fox's engagement announcement, she noted the two were going to drink each other's blood to seal the deal.
Sealed With A Shot Of Blood!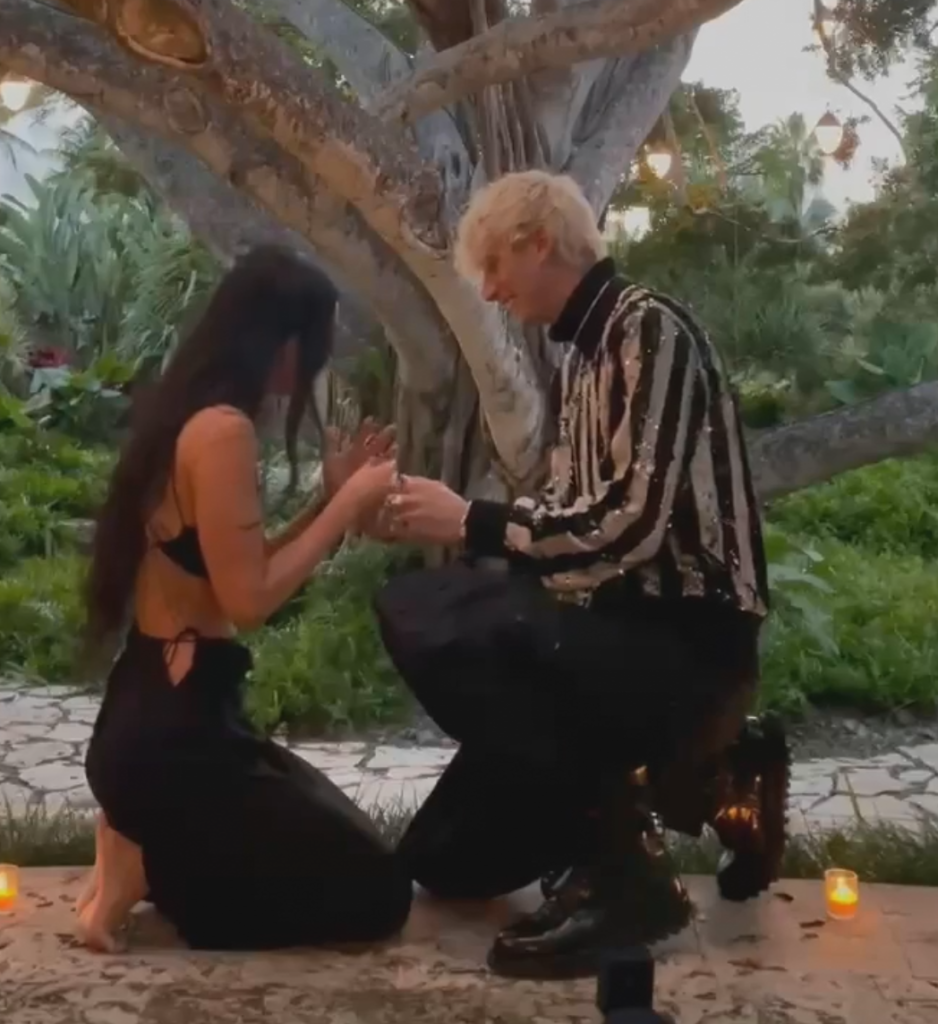 She wrote, Somehow a year and a half later, having walked through hell together, and having laughed more than I ever imagined possible, he asked me to marry him.And just as in every lifetime before this one, and as in every lifetime that will follow it, I said yes. …and then we drank each other's blood."
The couple infamously walked the red carpet literally chained together at the nail.
Back in December, the rock star and actress arrived at an event in West Hollywood, CA to celebrate the launch of his new unisex nail polish line — UN/DN LAQR — in standard matches outfits.
But, the couple shocked the crowd after they noticed the duo was actually CHAINED together by their fingernails.
The nail artist responsible for the dramatic work is Brittney Boyce, who revealed details of the stunning ensemble on Instagram. The artist says she used three shades of MGK's collection: "Party Favor," "25 to Life," and "Depressionist."
She continued, "After the nails were dry, I used a nail piercer to pierce both of their pinky nails and added rings to them, so that I could attach two chains to them, so that they were chained together."