Khloe Kardashian has been putting in the WORK at the gym.
The Good American cofounder showed off her backside, and no we aren't talking about her derriere, we are talking about her actual back.
Khloe took to Instagram to show off her toned body on Tuesday, February 1.
She posted two photos taken about three months apart.
LOOK At Khloe's Ripped Backside
View this post on Instagram
In the first photo she looks super lean and cut.
In the second photo you can see Khloe's muscles bulked up.
She captioned the pics, "About 3 months apart 💪🏽 lets go @coachjoe.paris we are sculpting my back and arms."
Koko's famous friends immediately left words of encouragement in her comment section.
Jen Atkin commented, "My hero. I'm so impressed with your dedication Khloe. Years and years of waking up and committing to YOU. I love u."
Lala Anthony replied, "Okkkkkkkkkkkkkkkkkkkk Khlo!!!!!!!! I see u. 🔥🔥🔥🔥❤️❤️❤️❤️❤️❤️."
Emma Grede wrote, "Strong AF!  👏🏽💪🏽🙌🏽👏🏽."
One fan used Kris Jenner's famous quote, "You're doing amazing."
It appears Khloe is on a body-positive picture kick, despite the internet losing its mind over her hands.
On Sunday she posted a photo of herself completely topless and wearing Good American jeans with her toned abs on full display.
Khloe Shows Off Her Toned Body!
View this post on Instagram
One person made fun of her recent long hand controversy and commented, "Oh lord, she's hiding her hands 😭."
Koko aptly responded, "lol never. My hands are beautiful baby."
View this post on Instagram
In the event you didn't see what the world wide web was talking about the entirety of last week, let The Blast fill you in.
Khloe posted photos of herself in one of her many luxury cars while also sending aa poignant message to her cheating ex-boyfriend, Tristan Thompson.
While many people were talking about her message on betrayal… one person was completely consumed with her hands, which put the internet into a downward spiral.
Someone on Twitter zoomed into one of her hands sticking out of the long-sleeved bodysuit and drew comparisons to a vampire.
Khloe gets her hands from her DAD🤣 pic.twitter.com/uU5mOmNNo3

— JunBug (@DaTruJBUG) January 27, 2022
"I can't unsee it, now neither can you," a Twitter account posted. 
"We get the whole betrayal situation but Wtf is going on here," a fan responded.
Another added, "Khloe Kardashian's hands look like the hands of what I imagine lives under my bed and grabs my ankles in my sleep."
Khloe Kardashian's hands look like the hands of what I imagine lives under my bed and grabs my ankles in my sleep pic.twitter.com/23ffGL8j3B

— ELLA (@ellcooperx) January 27, 2022
Obviously, the huge fingernails aren't helping the matter.
Interestingly, this isn't the first time Khloe has answered questions about her hands. Several years ago, Kardashian posted a commercial for her clothing company 'Good American' where she is sitting in a backyard, with one hand hanging down between her legs. It's the angle of the picture, but the same social media chatter started over the hand situation.
Khloe clarified the confusion, saying, "HA I'm cracking up! 4a few of those GA photos, we shot on a camera lens that creates a stretching effect. The closer the object is to the camera, they will get elongated. So in some of my photos, my feet/fingers look incredibly long. Not to worry! I still have normal size hands/fingers."
Khloe's Fingers Cause An Internet Frenzy!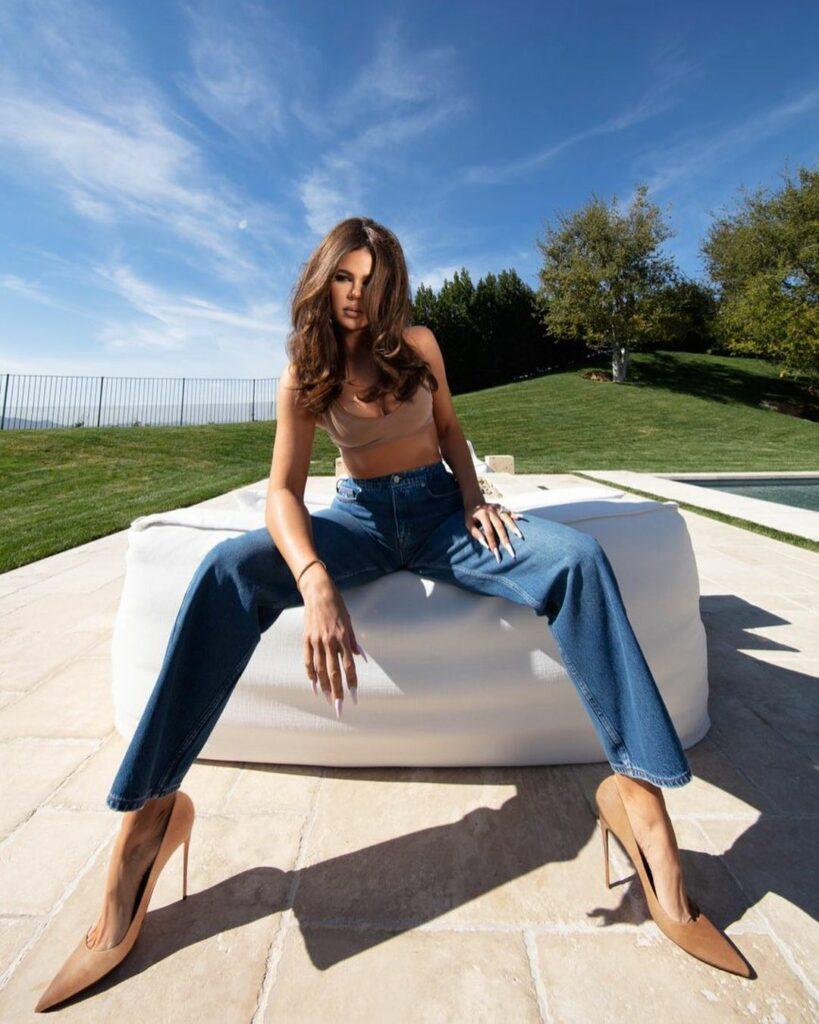 Adding, "I mean..LOL how could anyone believe this is the size of my feet?! it's the angle and the type of lens. And personally, I think this camera lens is so fu***ng cool. It gives the photo a different vibe and not the same old visual I always see. Either way, I'm happy with them."
You know what else Khloe is happy with… her decision to leave Thompson for good.
The NBA star has not only cheated on her with multiple women, he had a whole a** baby with another woman while he was still dating the reality TV star.
The Blast previously told you about his mistress, Maralee Nichols.
The Houston-based trainer and Thompson struck up a relationship on Snapchat last year. She attended his birthday party in March and in turn left the party pregnant.
In November, she filed a paternity lawsuit in California against the NBA player.
He went on the defense and filed a lawsuit against her in Texas with hopes of a judge upholding it, which in turn would mean he pays Nichols less.
The cards did not fall in Thompson's favor and a judge tossed out his lawsuit. Thompson denied fathering the child until a paternity test proved he was in fact the father.