Regina King is surrounded by love and prayers as she goes through this harrowing time. Over the weekend, the actress suffered a devastating and immeasurable loss when her only son Ian Alexander Jr. took his own life.
Now, a dear friend of the "Watchmen" actress has shared an update about how she's faring amid this difficult moment.
Vivica A. Fox Says Regina King Is 'OK'
On Monday, Vivica A. Fox appeared on an episode of Fox Soul's "Cocktails With Queens," where she talked about King's wellbeing. The "Independence Day" actress revealed that she spent the night with King and updated fans saying "she's okay."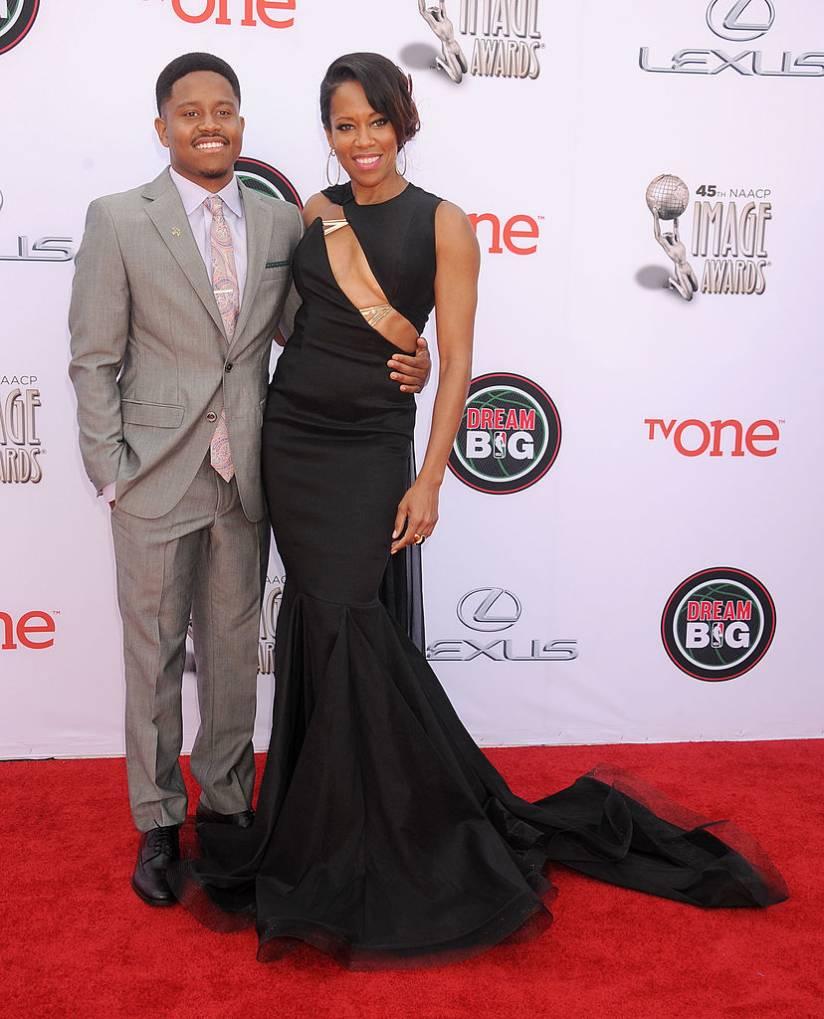 An emotional Fox expressed relief that she could hug her dear friend. She explained that she received a text letting her know that King wanted to see her and immediately dropped everything to be with her heartbroken friend.
"I made a u-turn immediately and headed there. I didn't think about where am I going…"
Fox broke down in tears as she noted she "had to go see my friend…my sister." However, Fox confessed she reached out to people on her way to see King, asking what to say. "I'm scared. I don't want to say something wrong," a tearful Fox admitted.
Fox then praised King's courage, saying, "She's so strong. More than anything else I'm glad I got to hug her, look into her eyes."
The 57-year-old described the weekend as "absolutely one of the longest" in her life and admitted she hadn't been able to stop crying.
Fox told the hosts that King told her to tell everyone she received their messages and the "outpouring of love for her, her son, and her family. She [King] appreciates it."
View this post on Instagram

Fox mentioned that it's been "so hard," while wiping tears off her face. She noted that the COVID-19 pandemic has got everyone, especially kids, in the dark spot and urged everyone to be their brother's or sister's keepers.
"If y'all see any signs of someone being in distress or if someone reaches out to you that's just maybe not having a good day, stop, take a moment to make sure they're okay," Fox advised.
She then added that King is surrounded by so much love from the community of African-American actresses. "Our community is right there," Fox said before adding that she was "so proud."
She concluded the interview declaring, "we'll get through this," and urging that more awareness be brought to mental illness.
Regina King Lost Her Only Son At 26
The news of Ian's heartbreaking death was confirmed on Saturday. As The Blast reported, King released an official statement about her son's demise that read, "Our family is devastated at the deepest level by the loss of Ian. He is such a bright light who cared so deeply about the happiness of others. Our family asks for respectful consideration during this private time. Thank you."
View this post on Instagram

Ian was the actress's only son from her former marriage to record producer Ian Alexander Sr. He and King went their separate ways after seven years of marriage. However, the Hollywood star often described her son's love as her greatest accomplishment.
The circumstances surrounding Ian's demise remain unknown, but it came days after his 26th birthday. In his last Instagram post, the actress' late son, a deejay, promoted an upcoming performance set to home on January 28.
Ian and King shared a deeply affectionate bond and even got matching tattoos that read "unconditional love" before leaving for college. He was often his mother's date to award ceremonies and was right by her side and was there when she bagged her first Emmy in 2015.
King often described her son as "an amazing young man" and never failed to gush about how proud he always made her.
Ian also reciprocated immense love towards his mother, as evident in the last tribute for her 50th birthday. He described having "The Boondocks" actress as "the greatest gift I could ask for."
View this post on Instagram

He gushed about the unconditional "love and support" he received from his mother and declared King his "superhero." Our thoughts and prayer go out to King and her family during this challenging time.