André Leon Talley died on Tuesday at age 73.
In the hours since his passing, Talley's death has rocked the fashion industry.
Unknown Cause Of Death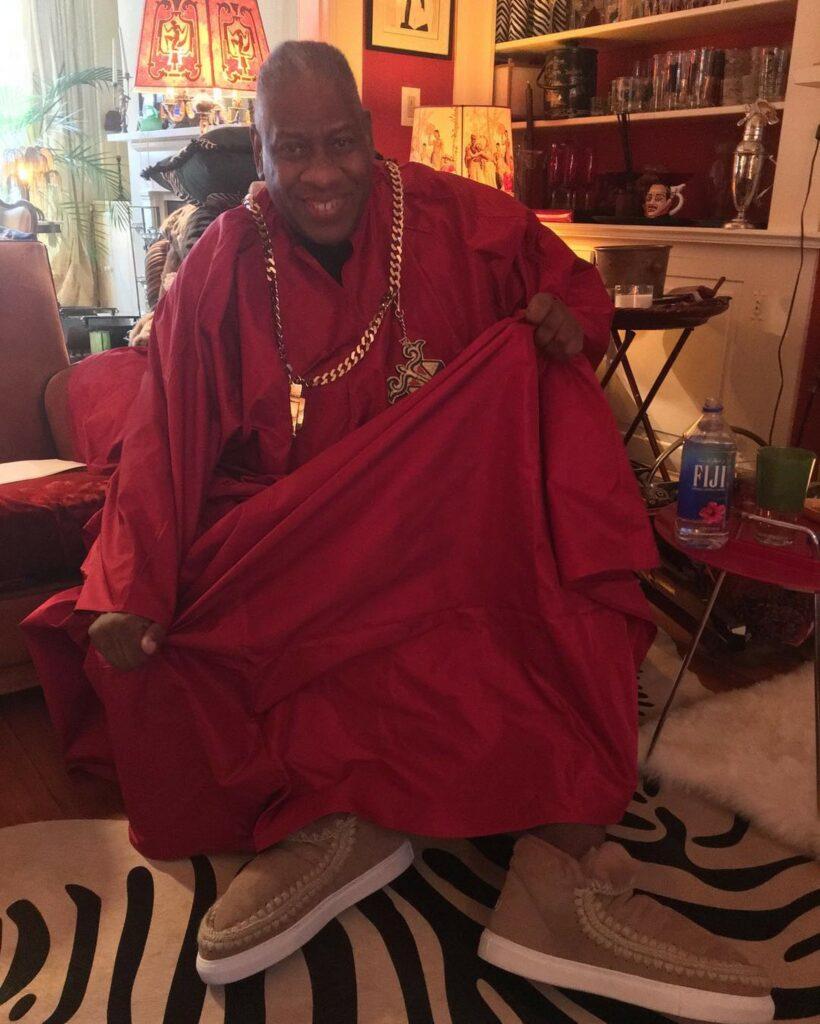 The former creative director and editor-at-large of Vogue magazine, who died of an unknown illness, was beloved by many in the fashion world. Talley was known for his blunt comments and flamboyant presence — sporting statement kaftans, robes, and hats throughout most of his career. His team announced his passing on his Instagram account.
"It is with great sadness we announce the passing of André Leon Talley on January 18, 2022 in New York," the statement read.
Tributes To The Fashion Icon
View this post on Instagram

From influential figures such as Andy Cohen, Coco Rocha, Holly Robinson Peete to fashion leaders like Diane von Fürstenberg, Marc Jacobs, and more are mourning the loss of Talley.
The Bravo host talked about Talley's passing on "Watch What Happens Live."
"I'm a little off right now because during the break, we got news that our dear friend of the clubhouse André Leon Talley has passed away," he said.
"TMZ has just reported that, and André was just was such an incredible life force. I think he just was boisterous. He was bold. He was lively. We loved having him here. He had a booming voice. He just gave so much energy and love to everyone around him at all times," he added.
Cohen also mentioned Talley's "incredible book" — The Chiffon Trenches — a memoir that the fashion journalist released in May 2020, adding that the "trailblazer" was "the first Black editor at Vogue."
He continued, "He was just an incredible wonderful, wonderful guy. And we're gonna miss him, and he was a great life force. So I just want to salute André Leon Talley, rest in peace."
He Was 'Sweet and Genuinely Kind'
View this post on Instagram

Rocha, meanwhile, shared a black-and-white picture of Talley when he was younger.
"I'm so sad to hear that my friend, the incredible Andre Leon Talley, has passed away," the Canadian ​model captioned her share. "He was a legendary figure in fashion and a walking encyclopedia of knowledge. I know over the next few days much will be mentioned of the blazing trail he forged as a black man from the segregated south who found his place in the epicenter of fashion. Beyond the larger than life persona, I knew him personally as a sweet and genuinely kind human being."
Rocha also added that they "were Westchester county neighbors for much of the last decade and he would often check in on my family and I."
She then revealed the "last email he sent" to her.
"We were discussing having tea and introducing him to my newest baby girl, Iley. His final departing words to me were 'Nothing matters in this world but family and love, and you have IT'. I hope, in the moments before he passed, he recalled how much he also was loved by the extended family he had fostered over many decades in this industry. He will be missed," she wrote.
Remembering The Past
View this post on Instagram

As for Fürstenberg, she recalled the memories she shared with Talley in the past "45 years."
"Good bye darling André ❤️🙏… no one saw the world in a more elegant and glamorous way than you did ❤️🙏," she wrote in the caption, along with a close-up image of Talley. "no one was more soulful and grander than you were ❤️🙏…the world will be less joyful now ❤️🙏 I have loved you and laughed with you for 45 years…. I will miss your loud screams and your loyal friendship…I love you soooo much ❤️🙏"
Jacobs' tribute was short and sweet, adding a photo of the duo taken many years ago.
View this post on Instagram

"I am in shock. You championed me and you have been my friend since my beginning. Our chats, the moments we shared….oh my friend," the renowned designer wrote. "You and your passions were larger than life. I love you and I will miss you dear Andre. Rest In Peace."
Peete posted a photo collage of Talley and tweeted, "Rest In Peace André Leon Talley. What a mark you made."
View this post on Instagram

Ivan Bart, President of IMG Models and Fashion, also remembered the fashion icon by sharing Talley's pics on his feed.
"He was a Prince. Nope, he was a King! And his aura matched that of Royalty!" Bart wrote. "It took me years to approach him and once I did, he embraced me and was a great support. He loved fashion models and when we discovered a new talent that he became enthralled with, his dramatic gestures were made for the theater. The screams of delight, the hand gestures, the symphony of words… 'FABULOUS' 'ICONIC' 'MUSE OF OUR TIME' 'SHEER PERFECTION' I felt so accomplished when he would say 'DARLING, YOU DID IT AGAIN'! It was always a joy!"