Demi Rose served up another smoldering look on her Instagram page this week that got pulses racing!
The English model, 26, returned to her account on Wednesday, January 12, to post the smoking-hot share that sent temperatures soaring on her feed.
Gorgeous Snaps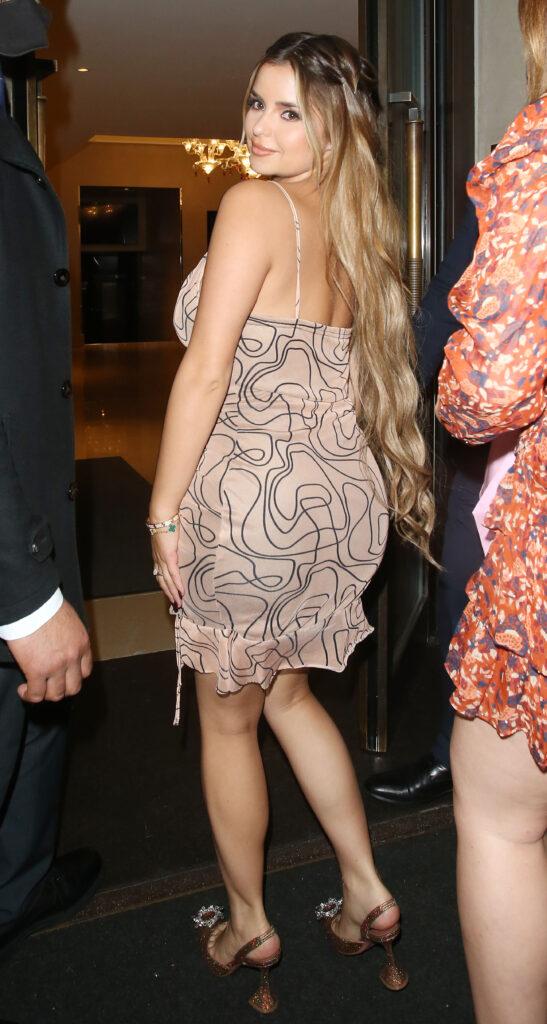 The steamy photoshoot session took place at a high location — possibly at the rooftop area of a building. The swimming pool and some coconut trees were visible in the background.
In the first pic, Demi could be seen lounging on the tiled floors in her scanty outfit. She bent her left knee to obscure her nethers as she was naked underneath her robe. The babe stretched her left hand to the side and touched her neck using her other hand. She was closing her eyes with her mouth slightly open as she enjoyed the warmth of the sun on her skin.
The second slide showed a blurry photo of Demi. As she was snapped from the side in the previous snap, the model was photographed at a slightly different angle. Her legs were seen in the shot as she lifted one leg and bent her knee. The influencer appeared to be laughing as she placed her hands on top of her head.
Lovely In Pink
View this post on Instagram

Demi looked absolutely angelic as she worked the camera in a semi-sheer pink robe that helped complement her lightly tanned complexion. The slinky number featured bell-shaped sleeves that flowed loosely over her toned arms with fur ​along the hems. It was fastened with a matching belt wrapped around her midsection, accentuating her slender frame.
The piece was still left partially open despite being tied at her trim waist, leaving her ample chest nearly spilling out of the garment and exposing a scandalous amount of braless cleavage that gave the shot a seductive vibe. She wore absolutely nothing underneath, leaving her taut stomach and flawless legs well on display.
Demi sported a pair of beige sandals with heels and fur details. She wore minimal accessories, such as a pair of stud earrings and a ring. Her long locks were parted to the side and styled in loose waves.
Living The Life In Ibiza
View this post on Instagram

"The grass isn't greener on the other side," Demi wrote in the caption. "It's green where you water it. 🌿🌸"
She tagged her photographer in the snapshot as credit for his work. The model added a geotag to the post — Ibiza, Spain — her current residence after moving out of London in 2020.
Fans Gush At The Pictures
View this post on Instagram

Demi's devoted Instagram fans were eager to express their adoration for the influencer and her sexy appearance. The provocative post racked up more than 320,000 likes and an upward of 2,600 comments in less than a day it was online.
"You are phenomenal, girl! You are so blessed beyond belief. Look at you!" wrote one person, adding a fire emoji.
"God d-mn girl you're an angel. You are on FIRE!!!" gushed a second follower, who ended their message in the same way.
"You are a vision, so dreamy," quipped a third fan, leaving a heart-eyes emoji and two red hearts.
"The men of the world called a meeting and we took a vote and it was unanimous, we would like more posts like this," chimed in a fourth Instagrammer, further expressing their love with a pink heart emoji.
Similar Photos
View this post on Instagram

As fans know, this is far from the first time that Demi has gone sheer on social media. Just last month, she modeled a see-through white cover-up while posing naked at Joshua Tree, California, reeling in over 401,000 likes from her ardent admirers. A month before, she went topless while wearing a hooded robe that was also see-through. She placed heart-shaped nipple tapes on her plump assets in an attempt to cover them to adhere to Instagram's strict no-nudity policy.
Fans gushed at the image, with one noting that it was her "BEST PHOTO!"
As Demi was posing in a rocky mountain, a follower commented by writing, "Undoubtedly the best looking Martian I have ever seen."
Demi's Instagram content is less racy compared to her OnlyFans updates. She joined the subscription-based platform last year and has been very successful on the site.
"I'm finally taking more creative control and being artistic, I'm finding my shoots fun and they [the subscribers] are happy with what I'm putting on there," she told BBC of her photos. "It makes me feel empowered."