Once again, Adele is blowing up the internet with her genius and impressive work of art!
On January 12, the singer released the highly-anticipated music video from the hit track, "Oh My God," and as expected, fans can't handle the heat.
Adele's 'Oh My God' Is Out
By 12 pm EST/5 pm UK time, 'Oh My God' was released on YouTube, and as of this writing, it has received more than 3 million views in the space of 5 hours.
The almost 4-minute video maintains a black-and-white theme and adopts biblical themes such as the forbidden apple and the serpent.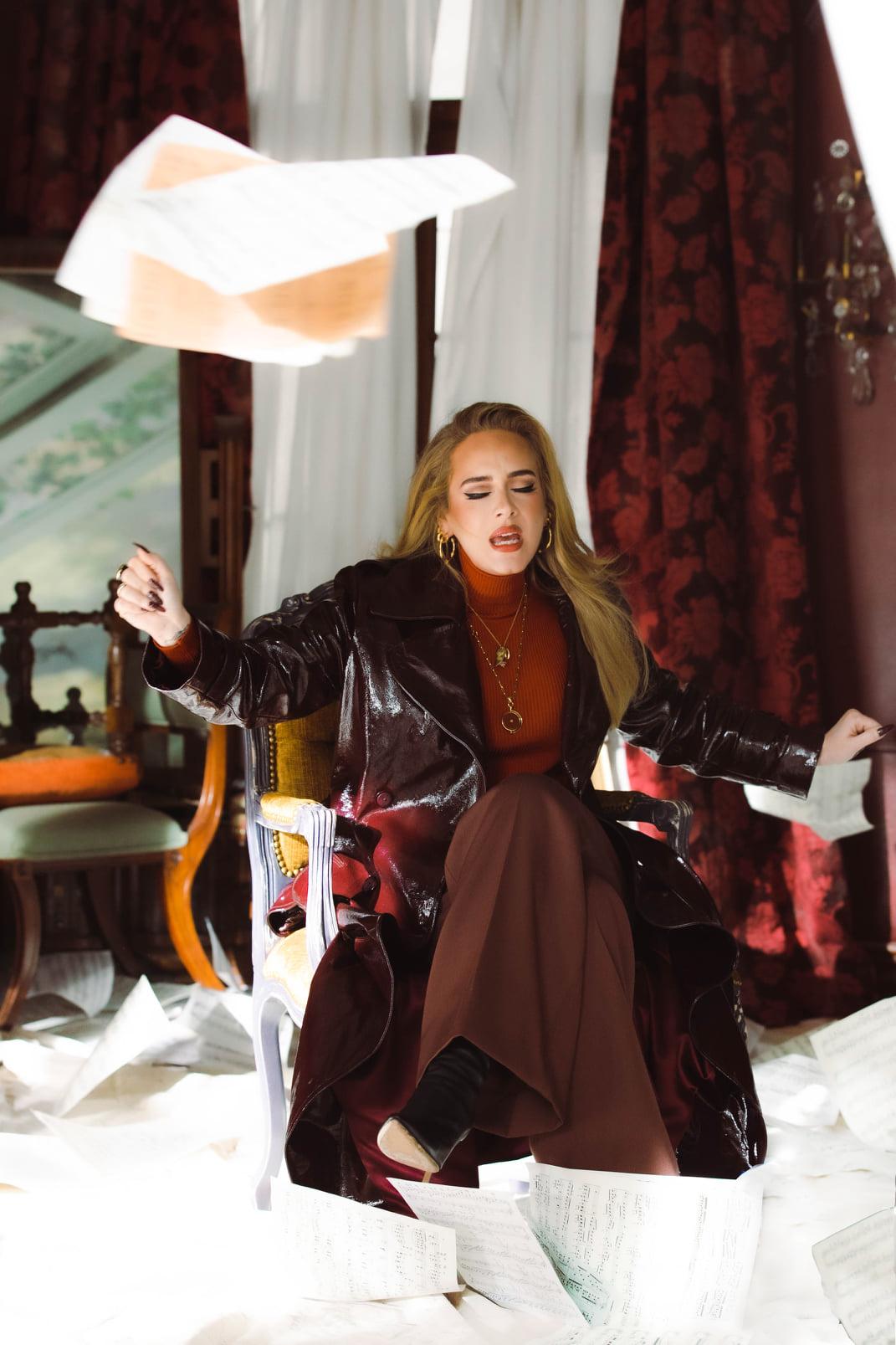 True to Adele's nature, she was majorly seated throughout the music video, changing into several glamorous outfits. The clip also featured electric performances by background choreographers.
Following the premiere of the music video, Adele took to social media to shed light on how the work of art came to be. In a lengthy caption, she detailed working with Sam Brown, writing:
I got to work with Sam Brown again for 'Oh My God' who directed the 'Rolling In The Deep' video! So to collaborate together again a decade later was nostalgic to say the least. We filmed this one on the day Easy On Me dropped, there were a million things going on all at once. But the attention to detail from the crew was borderline hilarious – thank you so much for your patience and pulling it all together it was a lot of fun.
Concluding the caption, Adele showed her funny side when she shared a hilarious anecdote about how she "skidaddled my arse" out of the set because of the huge python.
She appreciated fashion powerhouses, Harris Reed, Louis Vuitton, and The Queens Haus – Vivienne Westwood, for providing the looks for her "I'm a hot mess song."
View this post on Instagram
Fans Can't Get Enough Of The Music Video
Since the premiere of the music video, fans haven't been able to keep their cool on social media. Many have praised the English singer for delivering with her artistry time and time again.
One excited fan wrote, "The whole video is a work of art, which should be in every museum in the world," while another praised, "Adele is really an artist, a true artist, an exceptional artist. The decoration and the way the clip is shot is magnificent! Adele I love you MORE."
This internet user gushed, "Thank you for this beautiful video clip. It is literally a work of art," while another netizen noted, "I seriously loved so much the #OhMyGod music video. The outfits, the dancers, the story. It's just so… well thought out! #Adele really is THE artist! So creative, so talented …"
Adele is widely considered as a role model by the media and the public. She's very private and always stays out of controversy.

All eyes were on her when her divorce came into light and she had difficulty in handling the situation. #OhMyGod pic.twitter.com/HE3OsRI3u9

— OH MY GOD MV OUT NOW !! daydreamernatch³⁰ 🍎 (@adeleiconic_) January 12, 2022

This netizen was blown away by the representation and diversity in the clip. "One thing among a lot of things I liked in the video is the representation and diversity. Anyone watching the video will recognise how different the people in the video are."
Amid the praises, some fans focused more on the hidden meanings behind the biblical symbolism in the music video. Many believed it points to her divorce from her ex-husband Simon Konecki.
One inference from the magical video read, "Angelo studying beside Adele. Mom is everything of Kid's life. Adele's representation here is sublime. She is balancing both her career and her family, which is really important."
One fan noted that the scene of a burning chair represented Adele burning her past as it was the chair she sat on for her past music videos. At the same time, others drew vivid representations of how the video depicts her battle with her divorce, fame, and motherhood.
Angelo studying beside Adele. Mom is everything of Kid's life. Adele's representation here is sublime. She is balancing both her career and her family, which is really important. pic.twitter.com/Rb1esaLhka

— ADELE SRILANKAN PAGE (ඇඩෙල්ගේ ලාංකීය පිටුව ) (@Adele_Srilanka) January 12, 2022
Her Split From Ex-Husband Simon Konecki
Adele dropped "30" her first album in six years on November 19, 2021, and the world hasn't been the same ever since. Days leading up to its release, the Grammy Award-winning singer shared personal insights into her life, especially her divorce, which inspired her album.
As The Blast reported, Adele opened up in an interview that her split from her ex-husband Konecki was a low point in her life combined with the pressures of being famous. "Then having so many people that I don't know know that I didn't make that work. It f–king devastated me. I was embarrassed," she confessed.

Adele revealed that she was confused about who she was during the marriage, and heading into her thirties didn't make it any easier.