Songwriter Marilyn Bergman passed away earlier today.
Marilyn and her husband Alan Bergman were a famous husband and wife pair of lyricists and songwriters. The pair married in 1958 and worked together until her sudden passing.
Marilyn, who was born on November 10, 1928, passed away of respiratory failure on Saturday, January 8, 2022. She was 93 years old.
The pair wrote music and lyrics for many films, TV shows, and stage musicals. Their work has been honored with two Academy Awards for Best Original Song and a Grammy Award for Song of the Year. The couple had also been inducted into the Songwriters Hall of Fame.
The Bergmans Rise To Fame In Hollywood
The Bergmans first got their start collaborating with composer Lew Spence. They wrote the lyrics for the title tracks on Dean Martin's album "Sleep Warm" in 1958. In 1960, they wrote lyrics for Frank Sinatra and his 1960 album "Nice 'n' Easy."
In 1961, they wrote their first song for a film called "The Right Approach." In 1964, they wrote the lyrics for their first Broadway musical, "Something More!"
Many claim that the couples' "breakthrough" lyrical moment was when they wrote the lyrics for "In The Heat Of The Night" for the titular film. The music was composed by Quincy Jones.
They later worked with Jones on Michael Jackson's soundtrack album for "E.T. the Extra-Terrestrial" in 1982.
In the late 1960s, they teamed up with Michel Legrand. They wrote the English lyrics for the song "The Windmills Of Your Mind" which won the couple their first Academy Award for Best Original Song in 1969.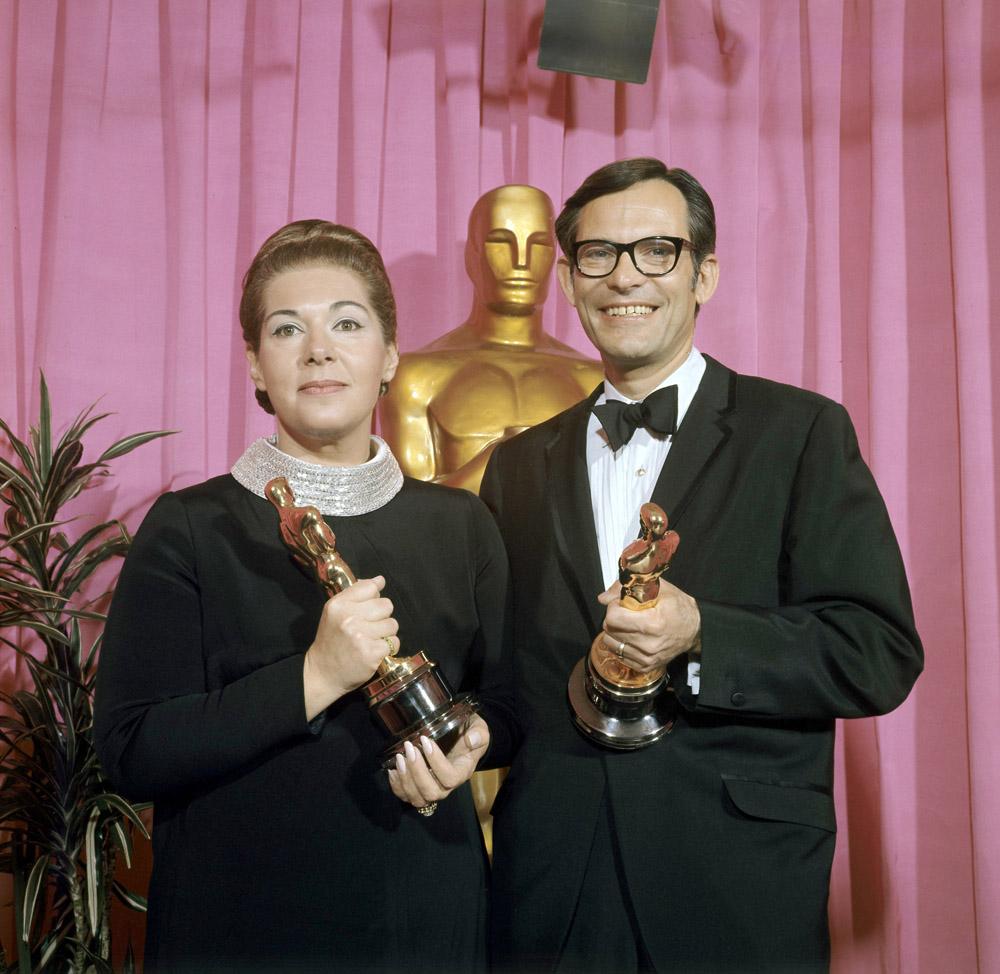 They were also nominated for Best Original Song in 1969 and 1970 for "What Are You Doing The Rest Of Your Life?" and "Pieces of Dreams."
The couple also collaborated with Marvin Hamlisch to write "The Way We Were," which was performed by Barbra Streisand in the film of the same name. Turner Classic Movies once dubbed the song "one of the most recognizable songs in the world."
The couple and Hamlisch also won the Academy Award for Best Original Song at the 46th Academy Awards, the Golden Globe Award for Best Original Song in 1974, and the Grammy Award for Song of the Year in 1975.
The National Endowment for the Arts and Recording Industry Association of America (RIAA) ranked the song in the top 365 "Songs of the Century."
Hollywood Remembers Marilyn Bergman
My dear, dear, beautiful Marilyn Bergman, to lose you this morning, so close to our brother Sidney, is just crushing me. You, along with your beloved Alan, were the epitome of Nadia Boulanger's belief that "an artist can never be more or less than they are as a human being"(1/3) pic.twitter.com/2y7v76W4jJ

— Quincy Jones (@QuincyDJones) January 8, 2022
Jones remembered his late collaborating partner in a lengthy Twitter post on Saturday afternoon.
"My dear, dear, beautiful Marilyn Bergman, to lose you this morning, so close to our brother Sidney, is just crushing me," he began. "You, along with your beloved Alan, were the epitome of Nadia Boulanger's belief that 'an artist can never be more or less than they are as a human being.'"
"The secret weapon to your songwriting… the unconditional love in your heart for your family, friends, and community," he continued. "Your lyrics an extension of your being.   We shared so much of life together …songs, laughter, love and hugs, and every minute was pure joy."
"And when they ask 'How Do You Keep The Music Playing,' I will always say ask Marilyn and Alan Bergman to write you the song.  RIP my sweet 'Owl.' Your songs will sing in our hearts forever xoxo Q."
Music critic Jon Bream tweeted, "RIP #MarilynBergman, Oscar, Grammy & Emmy winning songwriter & ASCAP leader. Often with husband Alan Bergman, She co-wrote many movie & TV songs including The Way We Were, Windmills of Your Mind, How Do You Keep the Music Playing and What Are You Doing the Rest of Your Life."
Producer Norman Lear tweeted, "There was only one Marilyn Bergman. No one knew that more than her husband and partner in music, Alan. To those of us who loved the Bergman's lyrics, Marilyn takes a bit of our hearts and souls with her today."
So long, Marilyn Bergman. Your lyrics will forever blow the windmills of my mind. How do we start without you? Can you hear me? Can you see the way you make me feel? What are we doing the rest of our lives? Can't we just be the way we were? 😢🎶💔 pic.twitter.com/TdZKvIPOzg

— Retroclásica (@Retroclasica) January 8, 2022