Aaron Carter reminds fans that he can rap.
The singer, 34, shared a video on Instagram where he debuted his track, "Reload the Wesson." In it, he showed off his rap skills. Listen to it below.
Flaunting His Talents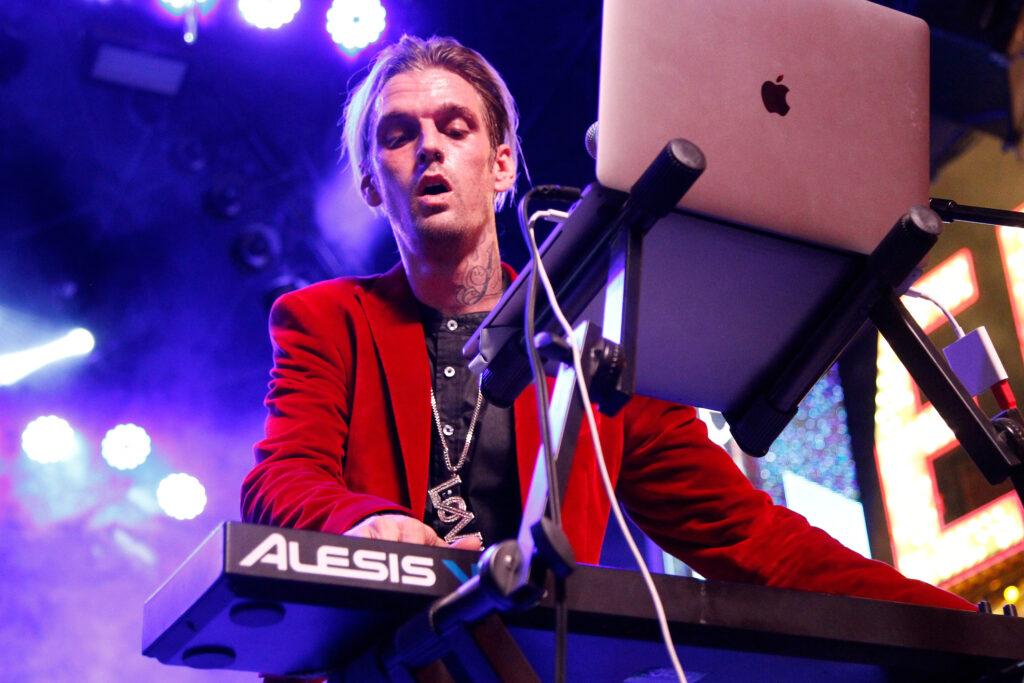 "RELOAD THE WESSON," Carter captioned the post.
He continued, "I'm back .. what did you think, I was gonna give up on rap!? Think again I started off rapping and now it's grown AC Time! Just listen to this rough mix #Reloadthewesson."
Compliments Pour In
View this post on Instagram

The share proved to be popular with his social media fans. In less than 10 hours, the clip accrued more than 3,300 views. His supporters have also liked the share over 200 times and gained over a dozen comments. Plenty of them took to the comments section to praise him for his talent. Others dropped various emojis to express their admiration for the singer and his song.
"God d-mn ac that is dope asf u need more of that that is ur flow u been looking for love it d-mn good job on it keep that fire up 👏👏👏🔥🔥🔥🔥🔥🔥🔥❤️❤️❤️❤️❤️❤️" one commented.
"You are growing into a champion more than ever proud of you Aaron 🎶🎶🎶🎶🔥🔥🔥🔥🔥🦁🦁🦁🦁🦁keep up the good work," added another user.
"you never left great music aaron you are sure working hard but i can see its paying off keep up the hard work Aaron," noted the third fan.
"Your rapping is fire 🔥 🔥 🔥 and you have a very distinctive voice too. This sounds very fresh brosky. I'm so proud of @thewinterhavens and yourself. You keep it moving and you keep evolving too. Not sure 🤔 if IDENTITY is still coming out in March but this sounds sooooo good 👍 😊. You seem very focused. We the lmg savages love you unconditionally. Your off to a great 👍 start in 2022," a fourth comment read.
Another New Single
View this post on Instagram

On the same day, Carter also shared a glimpse of his new track, "Ring Ring."
He also uploaded a video of him working on his computer as he played the song. The "I Want Candy" hitmaker sang some parts while filming.
"Recording a new record called ring ring me in my boy Louie wrote this," Carter wrote in the caption, adding, "Recoding a new record at home Logic Pro X RING RING."
The share earned over 4,500 views as of this writing.
Being A Dad
View this post on Instagram

Carter has been working extra hard, since especially becoming a father. He welcomed his baby boy, Prince Lyric Carter, who he shares with fiancé Melani Martin, 28, on November 22. In a recent interview, he got candid about being a first-time dad.
"I'm a father now, and it's… I mean, it's crazy. There's you know, you really understand like when people say, you know, it's different for everybody. Now I get it, you know," Carter told VladTV.
His Love For Music

The musician also revealed the story behind his son's name.
"He's a good boy, though," Carter said of his firstborn.
He added, "His name is Prince lyric Carter. So he got his name from me because Michael Jackson called me the King of Pop when he passed away."
The singer noted, "He gave me the jacket and everything, so I figured it would be a great name for him. So there. You know for a fact that I'm a poet. I write my stuff, and I love lyrics. I love being able to tell my stories in my music."