Conservative Majorie Taylor Greene has just been permanently banned from Twitter.
The Georgia Representative's personal Twitter account – @mtgreenee – was banned after spreading misinformation concerning COVID-19 for the fifth time. Her official Twitter account is still active; however, it might be banned if she reposts the violating tweets there.
Twitter released a statement that read, "We permanently suspended the account you referenced (mtgreenee) for repeated violations of our COVID-19 misinformation policy. We've been clear that, per our strike system for this policy, we will permanently suspend accounts for repeated violation of this policy."
Congresswoman Marjorie Taylor Green released a statement shortly after the ban, calling Twitter "an enemy to America."
Marjorie Taylor Green Says Twitter 'Can't Handle The Truth'
New: Marjorie Taylor Greene's account (@mtgreenee) has been permanently suspended from Twitter. pic.twitter.com/gw0iZJycay

— Davey Alba (@daveyalba) January 2, 2022
Reporter Davey Alba reposted Greene's message from Telegram "since she can't tweet." The statement read:
"Maxine Waters can go to the streets and threaten violence on Twitter, Kamala and Ilhan can bail out Black Lives Matter terrorists on Twitter, CNN and the rest of the Democrat Propaganda Media can spread Russia collusion lies, and just yesterday the Chief spokesperson for terrorist IRGC can tweet mourning Soleimani, but I get suspended for tweeting VAERS statistics." 

"Twitter is an enemy to America and can't handle the truth."

"That's fine, I'll show America we don't need them and it's time to defeat our enemies. They can't successfully complete a Communist revolution when people tell the truth."

"Social media platforms can't stop the truth from being spread far and wide. Big Tech can't stop the truth. Communist Democrats can't stop the truth."

"I stand with the truth and the people. We will overcome!"
Twitter Stands By Decision To Boot Marjorie Taylor Greene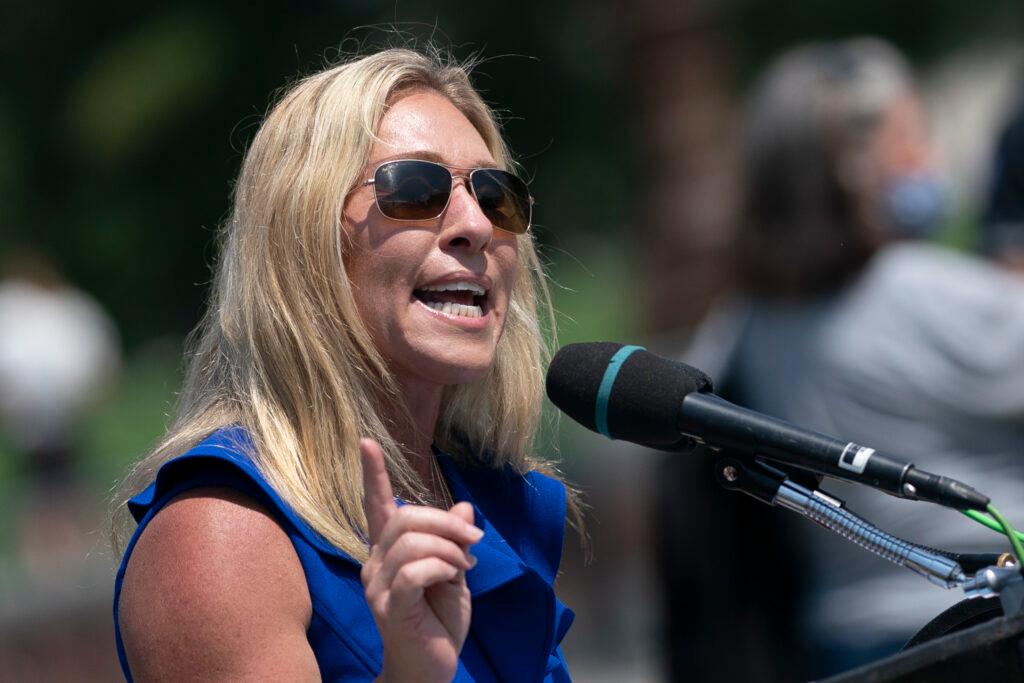 The now-deleted tweet that caused Twitter to boot Marjorie Taylor Greene permanently was a chart showing Reported Deaths by Vaccine Type from 1990-Present. Greene wrote, "Before Covid, Reported deaths from vaccines were taken seriously and dangerous vaccines were stopped. After Covid, extremely high amount of covid vaccine deaths are ignored and government forced vaccine mandates increase."
The misleading chart was pulled from a government database of unverified data called the Vaccine Adverse Event Reporting System, which relies on self-reported data from patients and doctors.
Twitter defended its decision and stood by its 5-strike rule.
"The consequences for violating our COVID-19 misleading information policy depend on the severity and type of the violation and the account's history of previous violations. In instances where accounts repeatedly violate this policy, we will use a strike system to determine if further enforcement actions should be applied. We believe this system further helps to reduce the spread of potentially harmful and misleading information on Twitter, particularly for high-severity violations of our rules. Repeated violations of this policy are enforced against on the basis of the number of strikes an account has accrued for violations of this policy:

1 strike: No account-level action
2 strikes: 12-hour account lock
3 strikes: 12-hour account lock
4 strikes: 7-day account lock
5 or more strikes: Permanent suspension
It is possible to appeal a suspension, but it is not clear if Greene plans to do so at this time.