Although Zack Snyder isn't heading to a galaxy far, far away, his latest film is heading to Netflix.
About ten years ago, Snyder was pitching an idea for his film to "Star Wars" creator George Lucas, who sold Lucasfilm to Disney in 2012 and put a kibosh on Snyder's plans to make a "Star Wars" film for more "mature" audiences.
Although Disney went in a totally different direction with the franchise when they started working on the "Star Wars" sequel trilogy, Snyder continued with his idea for an independent film, which he still dubs "Rebel Moon."
The title itself is not the only callback to the film's original "Star Wars" roots. Snyder recently revealed an image of "Rebel Moon" concept art, which also lends itself to a galaxy far, far away.
Snyder Offers Fans A First Glimpse Of New Project 'Rebel Moon'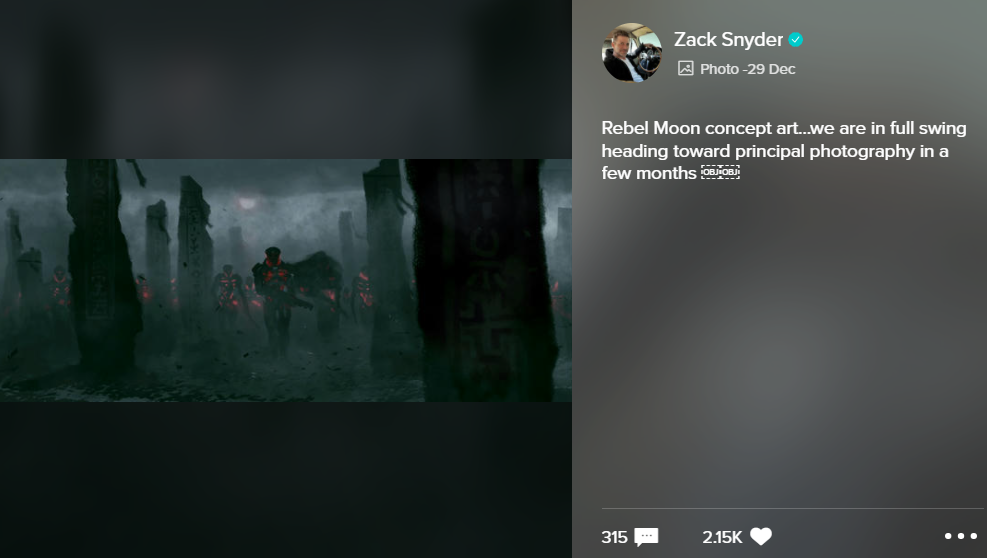 On December 29, the "Justice League" director took to social media platform Vero to share a first look at some "Rebel Moon" concept art.
"We are in full swing heading towards principal photography in a few months," Snyder wrote in the caption.
In the photo, black soldiers wearing capes and carrying large firearms are seen marching towards the viewer. Large black columns can be seen protruding through the earth at different points. The air is thick with dust and smoke, giving the atmosphere a bit of a horror video game vibe.
At one point, the soldiers marching through the area were most likely envisioned to be Stormtroopers; however, these soldiers seem similar in construction to the Death Troopers that were introduced later in the franchise with their black armor.
Fans Can't Wait For Snyder's New Movie!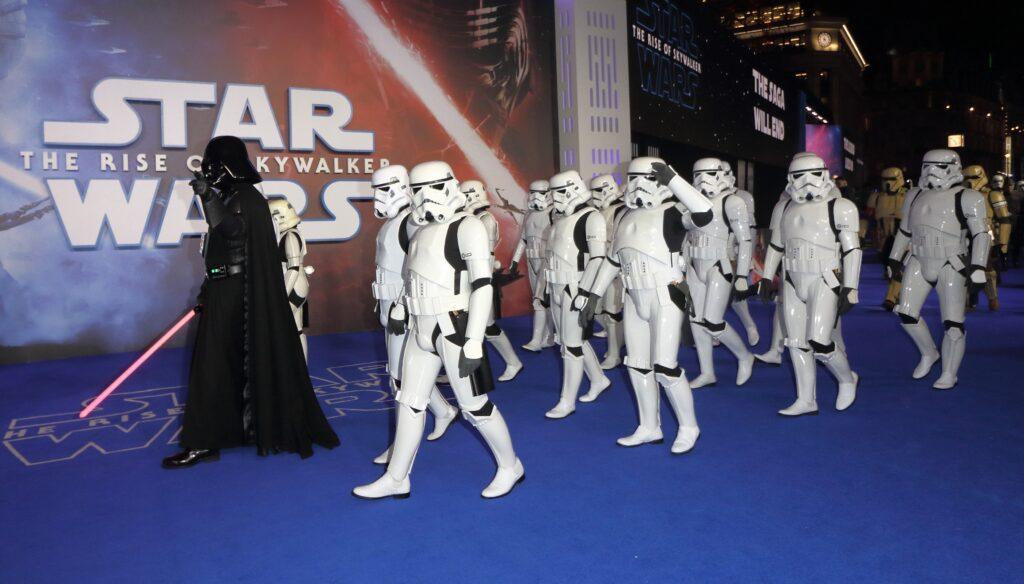 Fans left hundreds of comments on the concept art, praising the first glimpse of the film.
"I can't wait for this," one fan wrote.
"I am so excited for this movie," another fan wrote. "I'm actually excited for every work of yours."
"Already hyped for this one…" another commented. "Hope it will give us the same Synder vibes as Snyderverse."
According to Deadline, "Atomic Blonde" star Sofia Boutella is playing the leader of a peaceful colony that is located on the edge of the galaxy. When a tyrannical army called the Regent Balisarius (not the Galactic Empire) threatens their existence, they're forced to take a stand against their oppressors.
They send a young woman to find warriors (not Jedi) on neighboring planets to help them defend their home. Although there are still subtle nods to its "Star Wars" origins woven throughout the plot, fans can't wait to see what original elements the "Dawn of the Dead" director has in store for fans.
Schnyder, a self-proclaimed "Star Wars" fan, has had a long-standing partnership with Netflix through his production company, The Stone Quarry. After "Army of the Dead" earned critical acclaim, Netflix quickly followed it up with a prequel series, "Army of Thieves."
Considering there hasn't been a "Star Wars" film released since 2019's "The Rise of Skywalker" ended the Skywalker Saga, if "Rebel Moon" takes off with audiences, it's possible that Snyder might create his own science-fiction franchise… in another galaxy far, far away.