Alabama Barker is feeling fine after an emergency room visit.
Travis Baker's 16-year-old daughter took to Instagram to post a set of selfies following a trip to the hospital earlier this week. Alabama revealed she went to the emergency room for an undisclosed reason.
Health Scare?
View this post on Instagram

On December 28, Alabama posted a photo on her Instagram Story. She showed off her hospital wristband, adding a little note, as seen on the image obtained by People.
"I'm gonna be okay! Thank [you] to everybody who made sure I was good," she wrote.
Alabama did not disclose details on why she was admitted to the ER, but her current Instagram updates revealed her current health. The teen has been feeling better as she's back to posting quotes, memes, and selfies to her account.
Back To Normal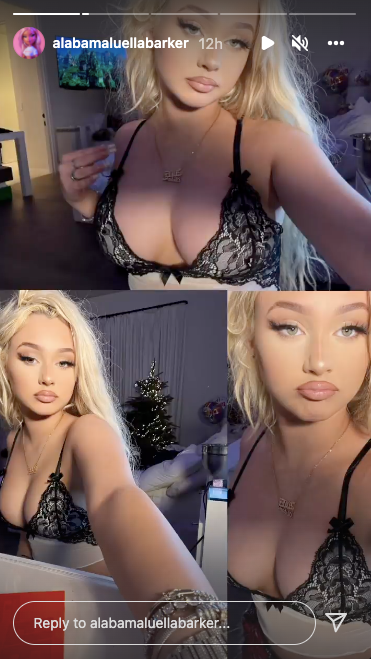 Hours ago, Alabama uploaded a collage of her pics on her Instagram Story. She rocked a tiny white crop top with triangle cups adorned with black lace. The garment boasted a plunging neckline that showcased her décolletage. Its straps went over her shoulders, highlighting her toned arms, while the short length displayed her flat tummy.
Alabama sported a full face of makeup, which included well-defined brows, faux lashes, a hint of light brown eyeshadow on her lips, a light dusting of bronzer on her cheeks, and nude lipstick with lip liner to emphasize her pout. Her platinum blond locks were left down and styled in loose curls.
Doting Dad
View this post on Instagram

The California native celebrated her 16th birthday on Christmas Eve. Her rockstar dad, 46, and his fiancée Kourtney Kardashian, 42, hosted a big bash for her. He has always been so supportive and loving towards his kids. In an interview, he opened up about his big role.
"I love being a dad," Barker told Nylon. "I always say that's my best … it's better than any song I've ever made or any accomplishment I've ever had or I've done. I feel like being a dad, just nothing compares."
Barker has another child — 17-year-old Landon Asher — whom he also shares with his ex-wife Shanna Moakler, 46. The former couple divorced in 2008, just three years after Alabama was born. Barker has made his children his top priority since becoming a single dad.
Now that he's engaged to Kardashian, he's also spending time with her kids, Mason, 12, Penelope, 9, and Reign, 7, whom he shares with ex Scott Disick, 38.
Sweet Stepdad
View this post on Instagram

The musician even taught Penelope how to play the drums.
"You can't be pushy, but you're like, 'Oh, do you want to learn to play something?'" Barker said of the little girl. "And she's always bright-eyed and like, 'Yes, I'm so excited to learn how to play.' She caught on really quick, like super quick."
However, he noted that he's not like a typical teacher with a strict schedule.
"[Not] like, 'OK, Penelope, we have to do lessons today.' But when she wants to learn then or learn something new I like being there to fill that little space, that creative space in her head," Barker explained.