Kim Kardashian is reflecting on the past year.
It was a roller-coaster for the SKIMS founder to say the least.
At the beginning of 2021, Kim filed for divorce from Kanye West. Her multiple business ventures skyrocketed her fame status to "billionaire" status, and she got into a new relationship with Pete Davidson.
She was booked, busy and getting her groove back.
Kim Reflects On 2021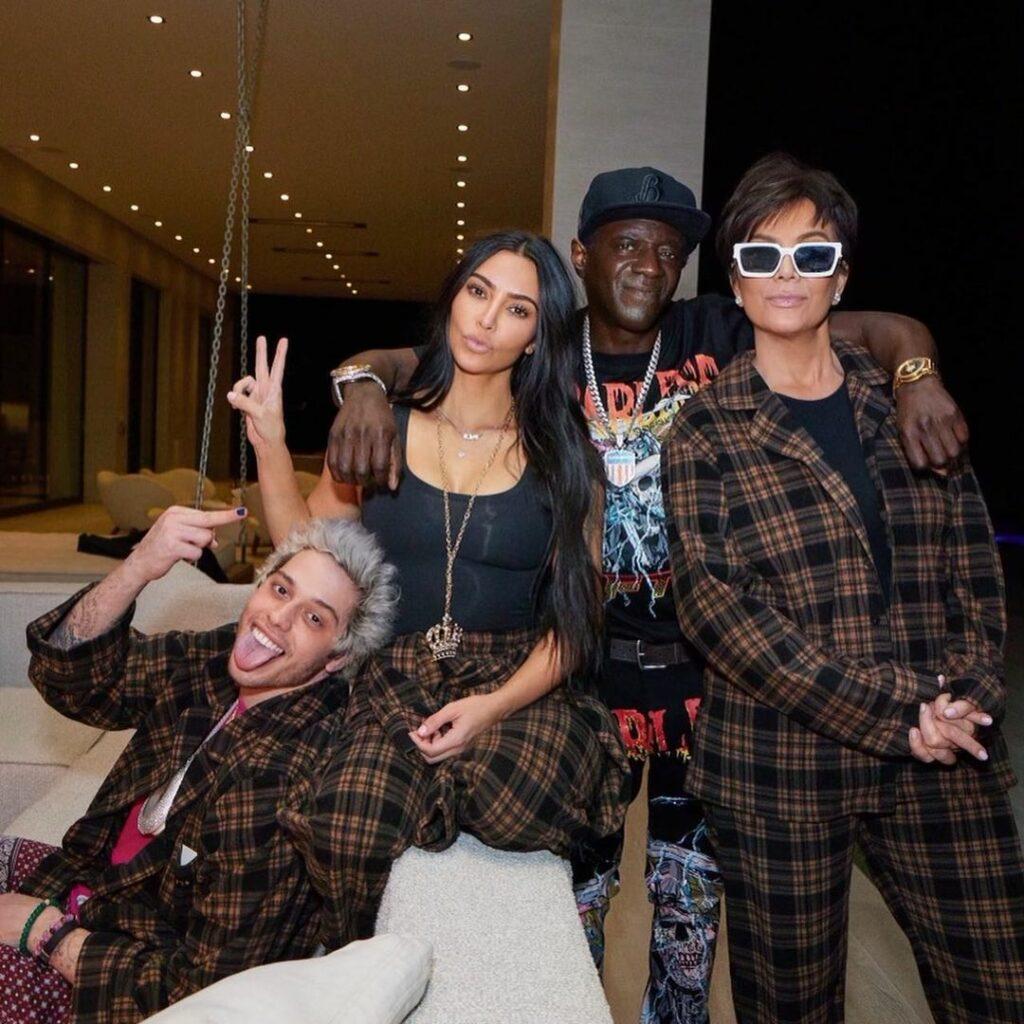 On Monday, December 27, the fashion mogul took to her Instagram Story to share some words of wisdom imparted on her by Kris Jenner.
The note read, "Some of the best advice I ever got was when I was in my early twenties, from a woman who was in her sixties. She said: 'A woman who lives well is a woman who is brave enough to change her course when/if she realizes she is headed in a direction that she doesn't want to go or doesn't need to go.'"
It continued, "I've heeded this advice over and over again. Sis, you don't have to wait until the new year to course correct. Don't worry about what 'they' will think or say when you take a step back after realizing this ain't it."
Kim Is Ready To Change Her Course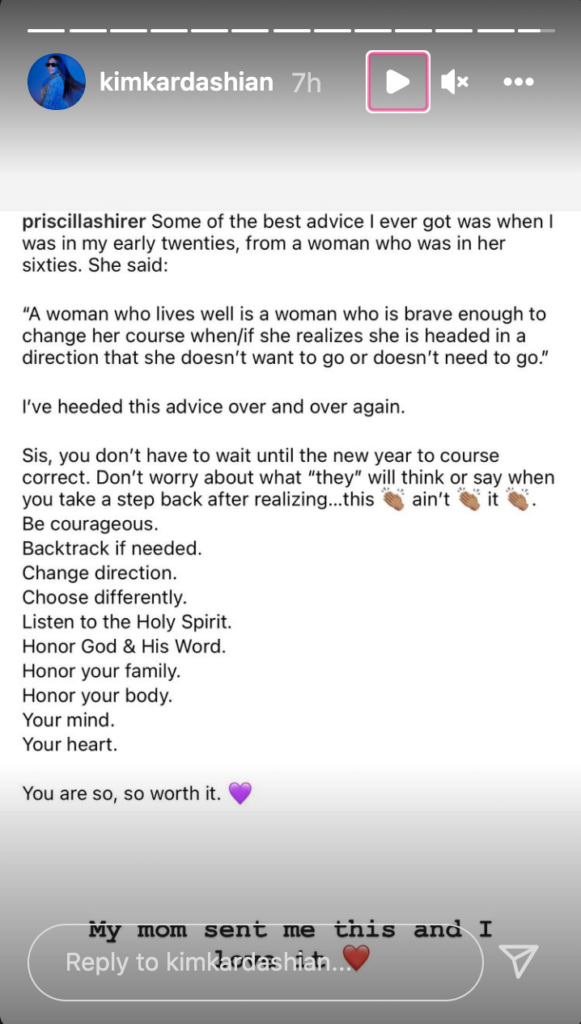 Now, this message could relate to a plethora of things, but the timing of Kris sending this to Kim and Kanye's recent real estate purchase directly across the street from her home is a bit too coincidental.
It could also relate to her new relationship with Pete and ongoing divorce from Kanye, who now formally goes by 'Ye.'
The note, which I think we can all take something away, concluded: "Be courageous. Backtrack if needed. Change direction. Choose differently, Listen to the Holy Spirit. Honor God and His word. Honor your family. Honor your body. Your mind. Your heart. You are so, so worth it."
The Blast previously reported on Kanye's new home.
According to Dirt, the rapper pulled quite the stunt when he purchased a property across the street from Kim's Los Angeles Hidden Hills home.
The "Jesus Is King" rapper splurged a whopping $4.5 million on an estate in the area that keeps him extra close to his soon-to-be ex-wife and their four children.
Kanye Is Staying Close To Kim & Co. Despite Divorce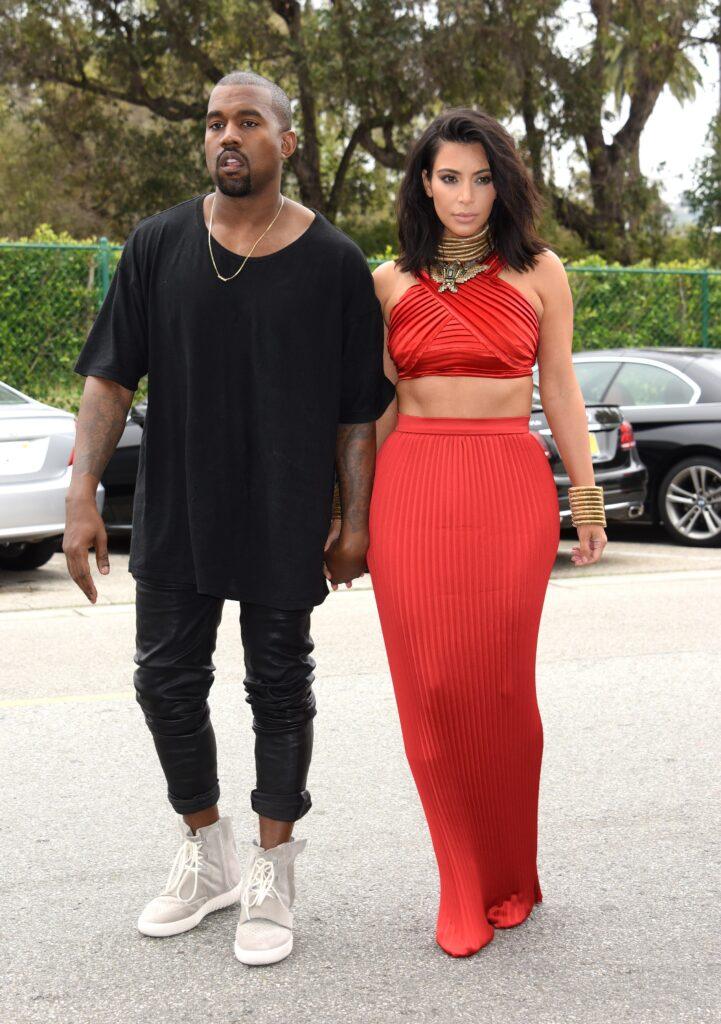 Compared to his numerous other properties, the new home, described as a "bachelor pad," is quite modest.
The property is a single-story rancher and sits on 1 acre of land. Ye's new dig is about 3,600 sq ft.
The house boasts four bedrooms and 2.5 bathrooms alongside an attached guest studio with a full bathroom. Other additions include an equestrian ranch with horse stables.
People on social media feel the rapper is 'obsessed' with his estranged wife, 'a stalker' and one even compared his disturbing move to OJ Simpson.
According to a new report from People, the rapper bought the house in a move to stay as close as possible to his children: North, Saint, Chicago and Psalm.
A source told the outlet, "Kanye's new house is a teardown. He only bought it for the location. It's near Kim and the kids. He has a vision for the house and plans on starting construction ASAP. It will be family-friendly. He wants to be able to have the kids over as much as possible. Living only in Malibu was making visits trickier for Kanye."