The trial for Kim Potter went to the jury on Monday, December 20 after about ten days of testimony.
On April 11, she and Officer Anthony Luckey, whom Potter was training, pulled Daunte Wright, 20, over at a traffic stop for expired plate tags. During the stop, officers learned that Wright had an outstanding warrant for his arrest on a gross misdemeanor weapons charge and attempted to arrest him.
A struggle ensued, and Potter grabbed her gun instead of her taser and shot Wright, fatally killing him. In the bodycam footage shown frequently throughout the trial, Potter appears distraught as she slumps to the curb, saying, "S—, I just shot him … I grabbed the wrong f—-ing gun. I shot him."
Potter, 49, is pleading not guilty to first and second-degree manslaughter charges. If she is convicted, she can face at least a decade behind bars.
Prosecution Closing Arguments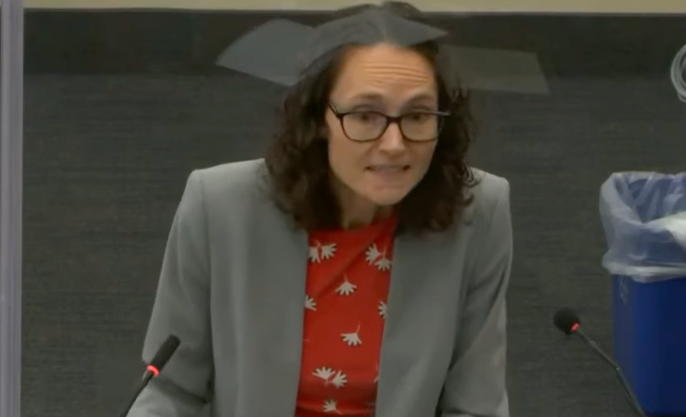 Attorney Erin Eldridge began the opening statement from the prosecution. The prosecution argued that Daunte Wright presented no threat to the Brooklyn Center police officers during the traffic stop. They added that Kim Potter endangered the lives of fellow officers and everyone inside the vehicle when she shot Wright and even said that Wright saved the officer on the passenger's side of the vehicle by taking the bullet.
"No one is saying the defendant meant to kill right," Eldridge said, noting the manslaughter charges against Potter include "reckless handling or use of a firearm."
They insisted that "deadly force was entirely unnecessary" and that the evidence was in the videos. They slowed the video down in slow motion for the jury.
They asked that the jury evaluate the relationship that Potter had with the other witnesses and the Brooklyn Center police officers that testified, noting that they were "like a family." They said that the jury had to reach a decision in this case "without sympathy."
She concluded her statement by saying, "She chose right instead of left. She chose wrong instead of right. She chose her gun and she shot and killed Daunte Wright."
Defense Closing Arguments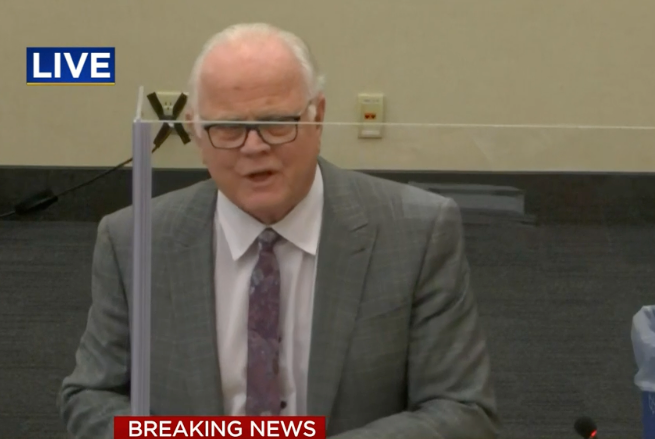 Potter's attorney, Earl Gray, called the prosecution's closing argument a "rabbit-hole misdirection" when they slowed down the tape. Her defense attorney asked for jurors to play the video as it happened to show that Potter only had seconds to react.
He also argued against the prosecution's argument that her former police officer colleagues would defend her because they were "like a family."
"Police officers aren't thugs. To say they would color their testimony to help their friend out is outrageous, simply unfair," he stated. He added that when it came to Kim Potter, "we're not asking for sympathy, they are," referring to the prosecution.
He states that Kim Potter is not responsible if a "superseding cause" caused the death of Daunte Wright. He said that Wright resisting arrest was what led to the "chaos" that led Potter to fire the fatal shot. He also mentioned that Wright had been smoking marijuana shortly before the incident occurred.
He added that Potter could not have been "reckless" using her firearm because she was not aware that she was using her firearm at the time of the shooting.
He concluded his argument by insinuating that Daunte Wright was at fault for his death by resisting arrest from officers.
Prosecution Rebuttal
Matthew Frank with the prosecution offered a rebuttal to the defense's statements. He stated that the issue, in this case, is the firearm used to kill Daunte Wright, and whether or not the use of a taser was appropriate to use in this situation is not a defense.
Frank told the jury to watch the videos and noted that Wright never struck the officers. "He simply pulled away and tried to operate the car," he stated.
He added that Sergeant Johnson's testimony that he could have been severely hurt or even killed if he was dragged along by the car was purely hypothetical. He continued to state that Brooklyn Center Police Department chief Tim Gannon, one of the defense's key witnesses, didn't watch some of the angles of the video when he said that Potter committed "no violation," including Sergeant Johnson's bodycam footage.
He called the possibility that Daunte Wright caused his own death "stunning." He called the possibility of Wright causing his own death "factually wrong" and "legally wrong." He stated that it was factually wrong because he died from the gunshot wound, which was caused by Potter.
The case is now in the hands of the jury, which consists of seven White men, four White women, two Asian women, and one Black woman. There are no Black men on the jury. It is unclear how quickly the jury may decide this case, but they will not be forced to work on Friday, Christmas Eve, or Saturday, Christmas Day.