Tesla CEO and multi-billionaire Elon Musk pulled out his 'Karen Card' to insult Senator Elizabeth Warren.
The Massachusetts senator took aim at Musk's tax-paying habits days after he was named TIME's 'Person of the Year.'
On Tuesday, December 14, Warren retweeted an article from The Boston Globe about Musk being named 'POTY.' She captioned the tweet, "Let's change the rigged tax code so The Person of the Year will actually pay taxes and stop freeloading off everyone else.
Senator Warren shades Elon Musk for not paying taxes
Let's change the rigged tax code so The Person of the Year will actually pay taxes and stop freeloading off everyone else. https://t.co/jqQxL9Run6

— Elizabeth Warren (@SenWarren) December 13, 2021
Musk, who has never shied away from a Twitter scuffle, responded to Warren with insult after insult.
He responded writing, "You remind me of when I was a kid and my friend's angry Mom would just randomly yell at everyone for no reason."
Elon Musk calls Warren an 'angry Mom'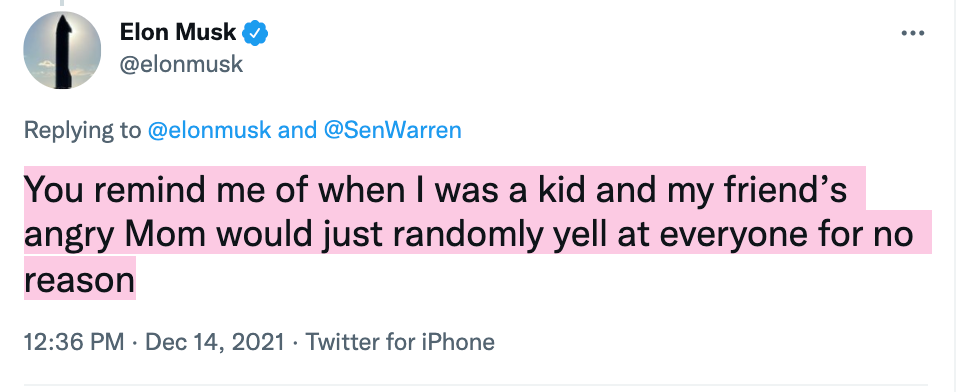 Musk continued his war of words writing, "And if you opened your eyes for 2 seconds, you would realize I will pay more taxes than any American in history this year. Don't spend it all at once…. Oh wait you did already."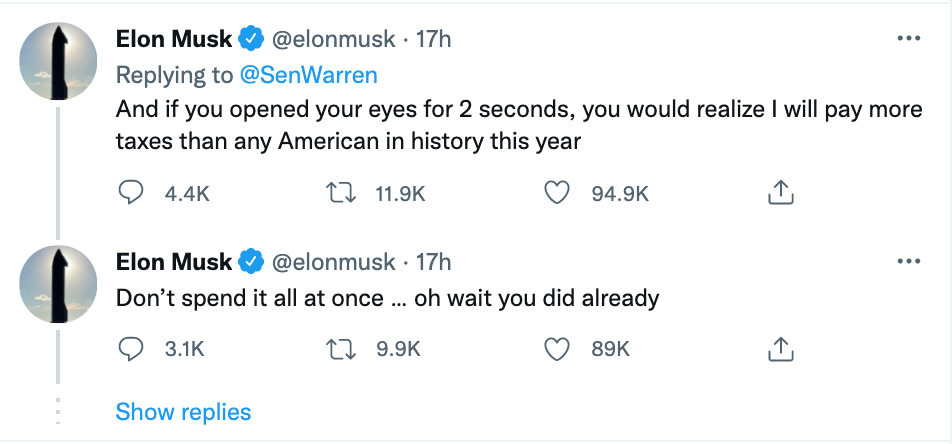 He then told Warren to 'stop projecting' and asked her to not call the manager.
"Please don't call the manager on me, Senator Karen," he quipped.
Musk pulls out the 'Karen Card' on Warren

If you've been alive for the past two years, you know the term "Karen" is an insult aimed at women who stick their noses into other people's business and get upset by it.
According to dictionary.com, "Karen" is defined as, "a pejorative slang term for an obnoxious, angry, entitled, and often racist middle-aged white woman who uses her privilege to get her way or police other people's behaviors. As featured in memes, Karen is generally stereotyped as having a blonde bob haircut, asking to speak to retail and restaurant managers to voice complaints or make demands, and being an anti-vaxx , Generation X soccer mom."
In 2020, "Karen" spread as a label used to call out white women who were captured in viral videos engaging in what are widely seen as racist acts.
Other Democrats have taken aim at Musk for his lack of paying income taxes.
A recent ProPublica investigation found that the billionaire, who is currently worth over $250 billion, paid no federal income taxes in 2018.
Earlier this year, Musk took aim at Bernie Sanders.
On November 13, Sanders tweeted, "We must demand that the extremely wealthy pay their fair share. Period."
Tyler Zed replied, "alive and still selling his snake oil from one of his four houses to 20 year old social studies majors."
Musk replied with a crying-laughing emoji.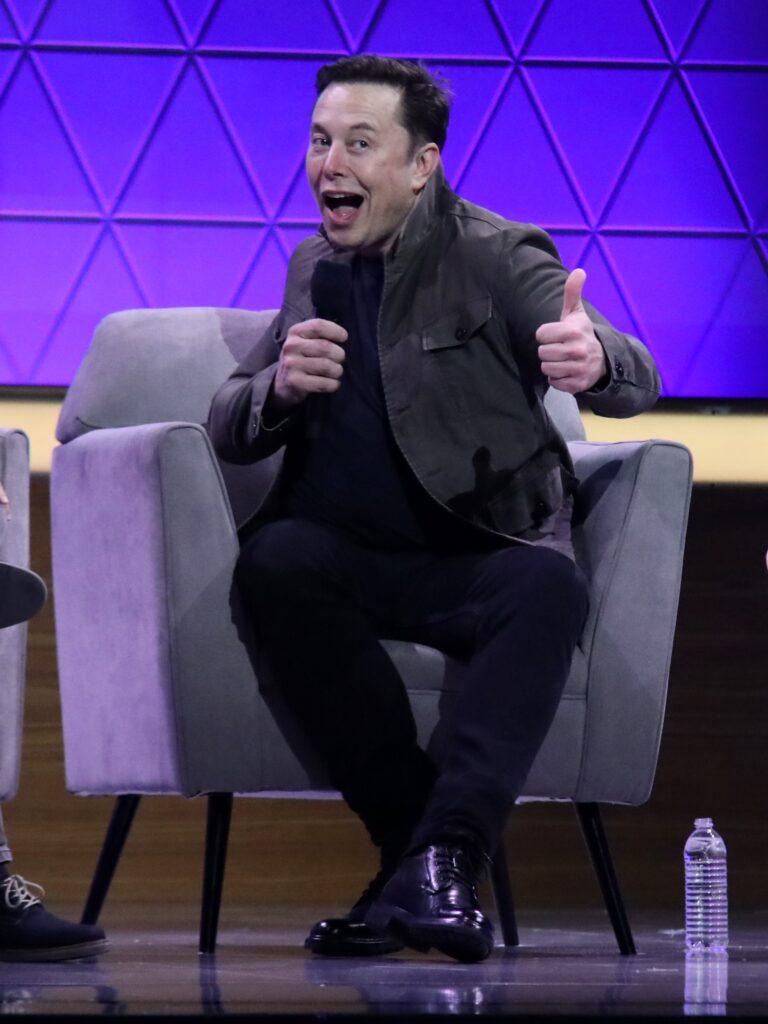 He then followed up with, "I keep forgetting that you're still alive. Want me to sell more stock, Bernie? Just say the word …"
Many did not take kindly to Elon's jab at Sanders.
One person replied to his shady tweet writing, "Wow you're so epic sauce I totally forgot that you're a 50 year old billionaire with 10 kids who chooses to spend every waking hour on this website [Twitter]."