Kim Kardashian is getting a little refresher on how to raise a child in this day and age, and she's getting it from her 12-year-old nephew.
Mason Disick literally just turned 12 on Tuesday, December 14.
Another year old, and many years wiser.
Mason decided he needed to intervene in auntie Kim's parenting plan, because his cousin North West is going off the rails on TikTok.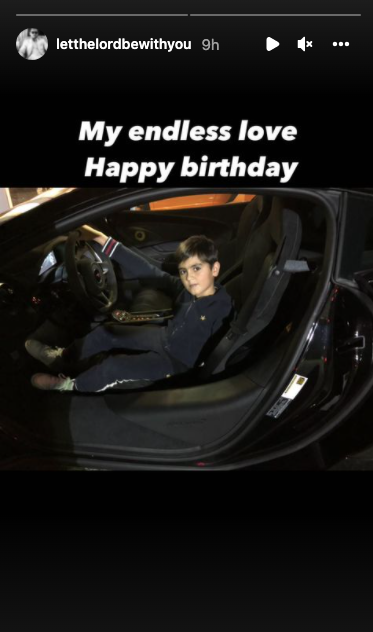 In the event you hadn't caught North on the social platform WITHOUT her mom's permission, here's what happened.
North, who is only eight-years-old, went live on TikTok over the weekend and filmed her mom hanging out in bed.
She entered Kim's room where the business mogul can be seen scrolling on her phone, lounging in bed.
North said, "Mom, I'm live," while laughing hysterically.
A frazzled Kim replied, "No, stop. You're not allowed to."
"Okay, bye," North responded.
Then you can hear Kim in background asking another person, who was not filmed, "North, come on. Is she really live?" to which the anonymous person responded, "I don't know."
North West goes live on TikTok without permission
View this post on Instagram
Obviously, North got into big trouble for this, and now, Mason is imparting his wisdom on why her actions could be detrimental.
On Tuesday, Kim posted a text message thread between her and Mason.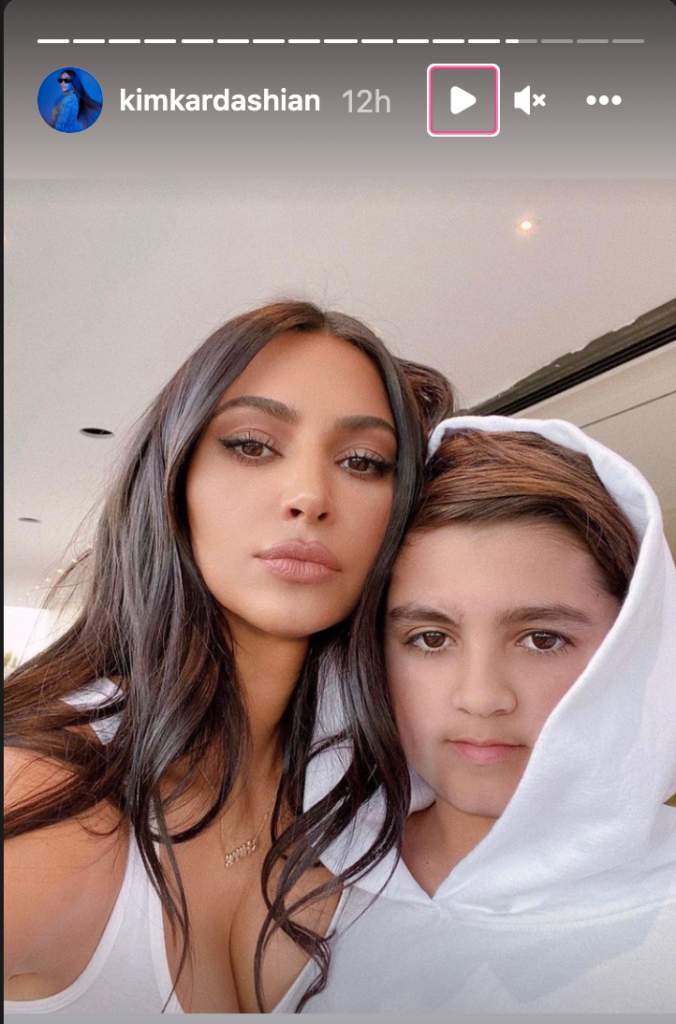 The message started off with the birthday boy texting his aunt, "Hi I don't want to disrespect north but I don't think she should do the lives unless someone is with her because people are always screen recording and she might tell information that isn't correct and stuff like that, that she will regret."
He continued, "I did the exact same thing as she did I would do the lives and now I regret saying one of the things that I said. Just in case for safety.
Mason is referring to the time in 2020 when he went live on Instagram without Kourtney Kardashian's permission and spilled the tea on Travis Scott and Kylie Jenner's relationship status.
Kim captioned the screenshot, "Now Mason is so mature! An insightful king 👑."
Mason warns Kim Kardashian about the dangers of TikTok Live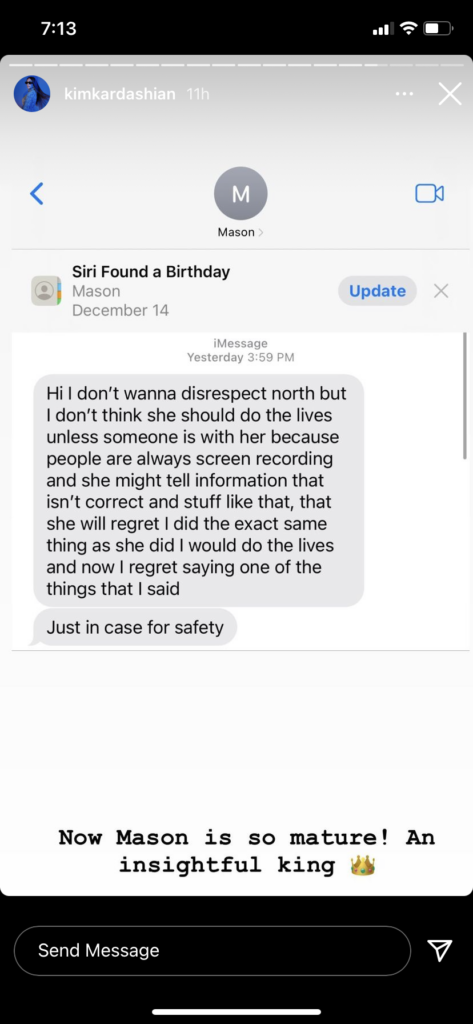 The mother-of-four responded to her nephew writing, "I appreciate you looking out Mason and I agree. She felt bad and I don't think she will do it again but it could be good if you talk to her about it."
The 'insightful king' gladly obliged responding to Kim, "I'd love to talk to her about it. Next time I come over maybe."
Thrilled, Kim said, "I would love that! Thank you! Sleep over soon?"
She captioned this particular message thread, "A helpful king 👑."
Kim Kardashian thanks Mason for worrying about North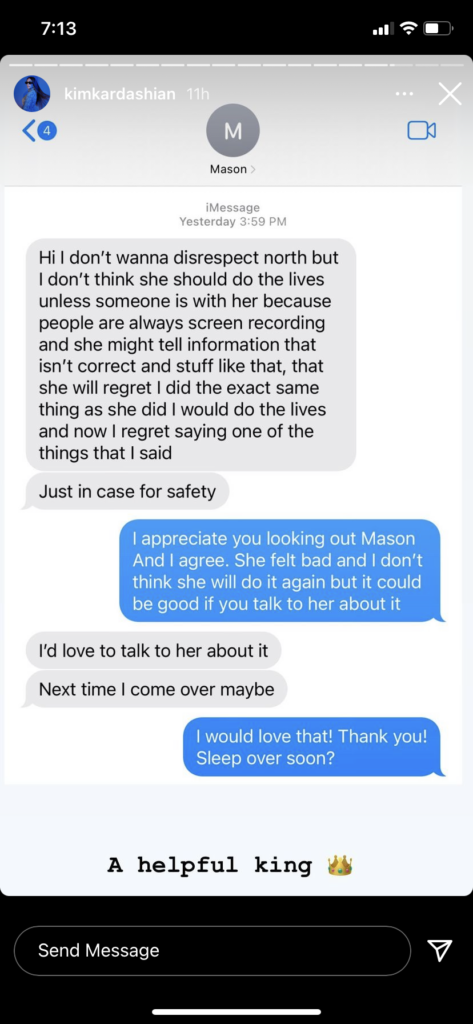 Way to look out for family, Mason. 12 looks good on you!