In a recent social media post, Tori Spelling showed that Dean McDermott is literally out of the family picture!
As breakup rumors increasingly swirl around the couple, neither has made a public statement about the status of their relationship.
The pair have been spotted without their wedding rings and are reportedly in a heated divorce battle. The "90210" alum's latest post seems to be the most tell-tale sign of a split yet.
Tori Spelling Leaves Dean McDermott Out Of Holiday Card
Christmas time is here; a time for joy…and time for leaving estranged partners out of lovely family holiday cards? 
On November 22, Spelling shared a heartwarming holiday card on Instagram featuring her and the five children she shares with McDermott: Liam, 14, Stella, 13, Hattie, 9, Finn, 8, and Beau, 4.
View this post on Instagram
The group was dressed casually and all smiles at the farm. Also pictured were a chicken, two goats, and a happy spotted pig, and yet the head of the family was nowhere in sight.
Spelling explained in the captions that it is a winter wonderland at her house and thanked the printing website for bringing her "happy family to life on my favorite holiday card yet."
The TV personality noted that her favorite McDermott-free card is the official one her friends and family will receive, adding the hashtag "#familyiseverything."
An internet user stirred the pot by commenting that McDermott must be working out of town and couldn't make it for the annual Christmas picture, with a winking and eye-roll emoji.
The "Scary Movie 2" actress responded with "Fact: @imdeanmcdermott was filming his new feature film in Canada," insinuating that his absence was unintentional.
Nevertheless, her followers were delighted that the father-of-5 was absent. A fan wrote, "Bye Dean!🖐🏻 Thank you for giving Tori beautiful kiddos.💛." Another noted, "I love these they came out beautiful."
The "BH 90210" Alum Feels Trapped In Her Marriage 
After a wedding in May 2006, five kids, and McDermott's affair in 2013, it appears Spelling can no longer stand being with McDermott, The Blast reported.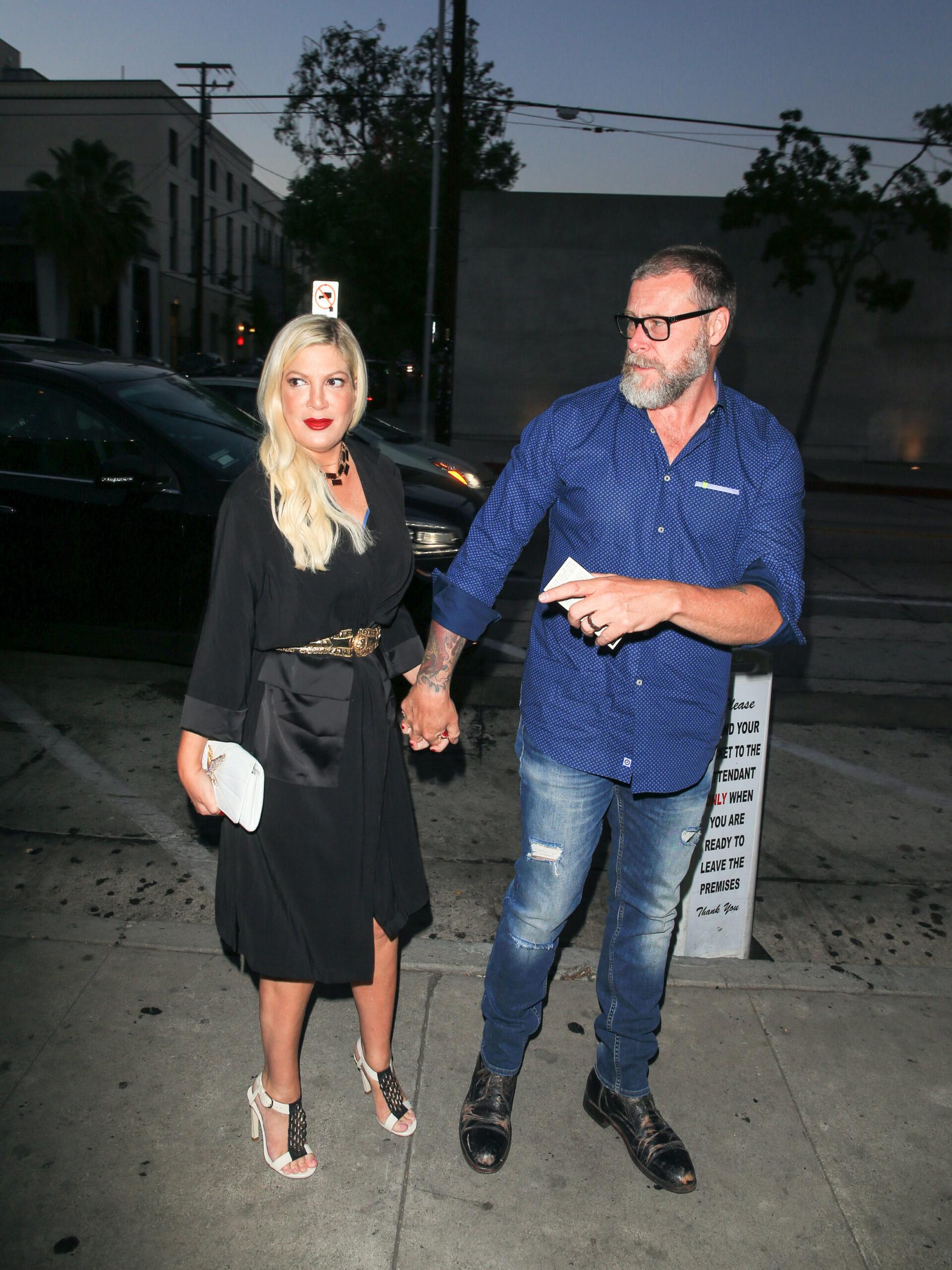 An insider expressed to US Magazine that the mother-of-five "wants a divorce, but she feels trapped right now," and the "Kiss The Bride" actor wants to sue for alimony and child support.
Despite their prenup, the source noted that Spelling's lawyers admitted McDermott could sue for child support which made her go "ballistic."
The source said the 48-year-old feels miserable in her marriage and money issues around the divorce are why she feels trapped, but she stayed for so long because of her kids.
The "Wall of Secrets" Actress Avoids Questions On Estranged Husband
Spelling showed that she could not be put on the spot regarding her relationship with her estranged partner.
The Blast shared that while on an October 26 appearance on "The Wendy Williams Show," Whitney Cummings, her pen pal, and fill-in host, questioned the actress about her marital life.
Cummings permitted her guest to hit her in the face before she asked, "what is happening with that guy? DEAN."
Spelling was taken aback but replied that her host knew she was not going to answer her question. Cummings then praised the reality star's boundaries and ability to control the narrative.
Insiders revealed to PageSix that the "Wall of Secrets" actress showed up at the "WWS" segment with an upbeat attitude and without her wedding band and ring.