Angelina Jolie's kids didn't like their mom's "Eternals" suit.
The "Maleficent" star, 46, turned the premiere of her new film into a family affair when she brought her kids Maddox, 20, twins Vivienne and Knox, 13, Zahara, 16, and Shiloh,15, to the event. Meanwhile, her other son Pax, 17, skipped the red carpet.
The Kids Were Not Amused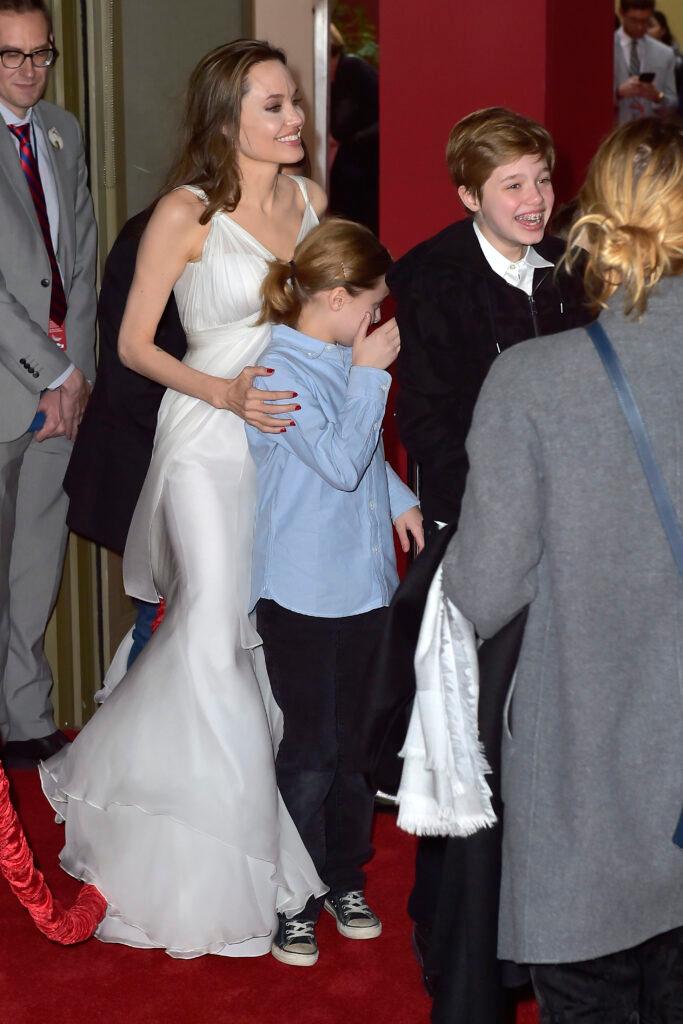 In an interview, Jolie said that her children weren't exactly thrilled about the gold, spandex suit she wore in the film.
"Would you wanna see your mother wearing that?" Jolie told ET. "I don't know, they haven't seen the movie, but your mom walks in with a gold spandex outfit and gold hair, they're like, 'What do you do for a living? What are you? Get back in your robe.'"
The Inspiration
View this post on Instagram

According to the outlet, the actress was very much the "mom" on and off-set. That said, a kind of family was created amongst the "Eternals" cast.
"It was certainly something that when Chloé [Zhao] says, 'I want it to be a love letter to earth, I want it to be this kind of a family for these reasons,' she's somebody you can trust isn't saying that 'cause it sounds right as a director, you know that she will live and breathe it and she will deliver on it," Jolie said. "And then, when they told me what the intention was, what the family was, I felt it was a long time coming."
Gorgeous In Balmain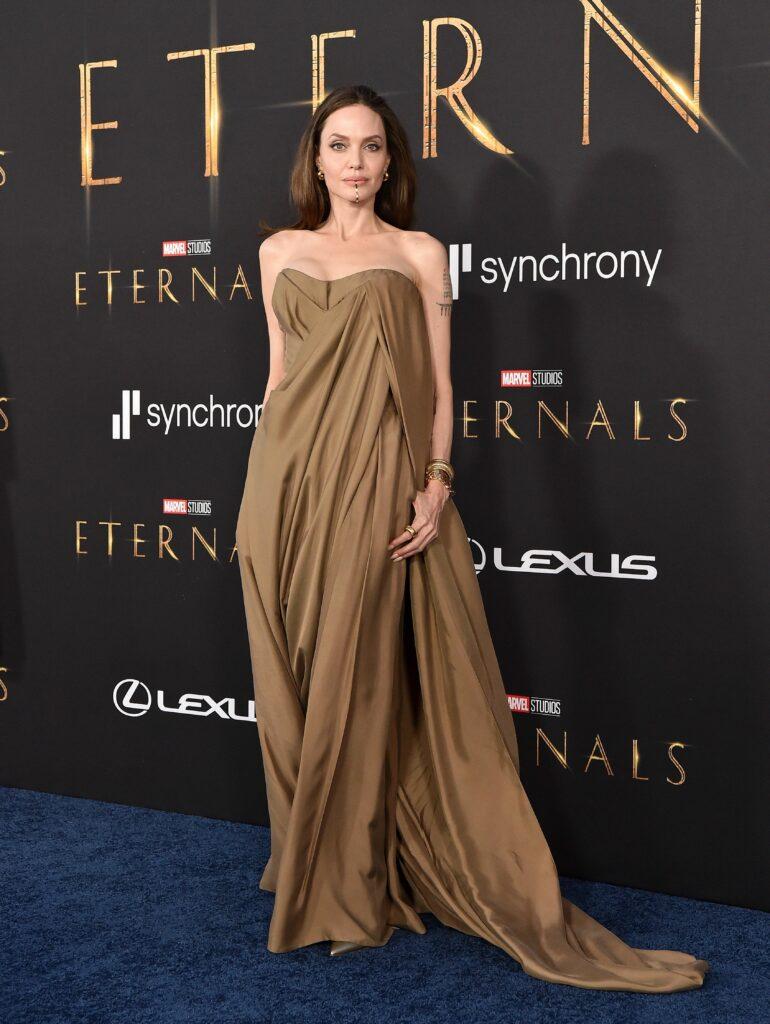 Jolie hit the red carpet premiere in a flowy olive green strapless gown from Balmain. The garment was long, with the hem pooling on the floor. She accessorized with a string of bracelets, earrings, and a gold chin cuff from Austin-based jeweler Nina Berenato, as per Independent.
"I can't believe it!!!" the designer posted on Instagram. "We got to create one of my custom lip cuffs for Angelina Jolie to wear for the premiere of Eternals and I am losing it seeing this full look come together tonight… Angelina looks incredible!"
The Golden Globe winner also sported matching pointed-toe heels for the occasion.
Vintage Finds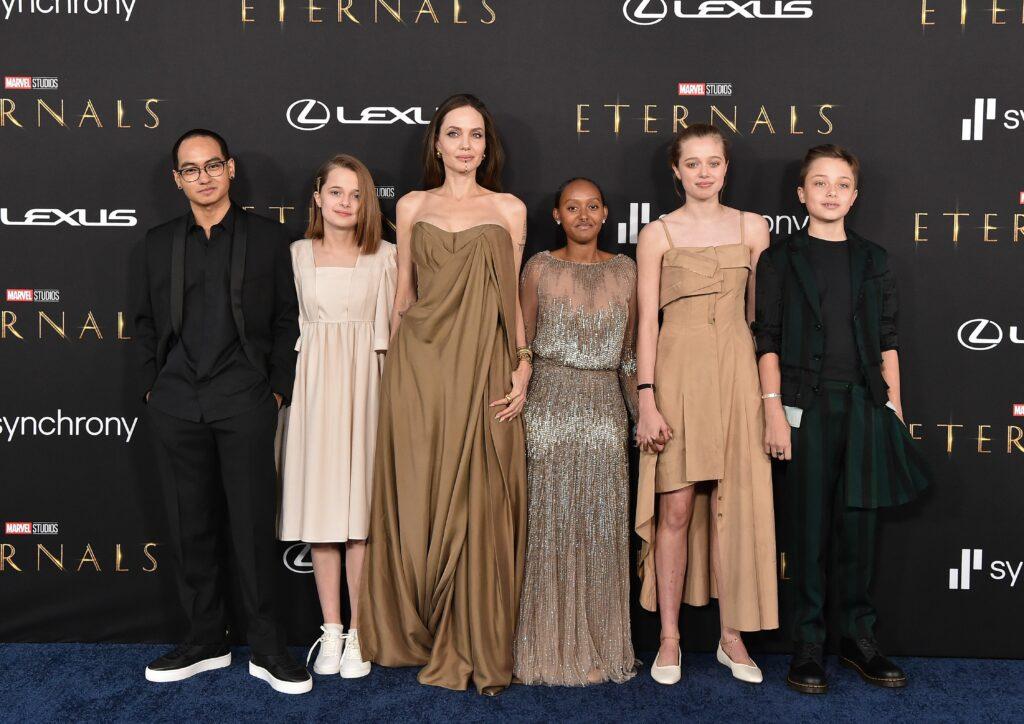 Jolie, who brought her children to the event, also got candid about their outfits, which were mostly from her closet.
"My kids are all mixed with vintage and in my old Oscars dress. We did all vintage and upcycled my old stuff," Jolie shared.
Maddox wore an all-black blazer and dress pants, while Vivienne rocked an all-white ensemble, which included an A-line dress and matching cardigan.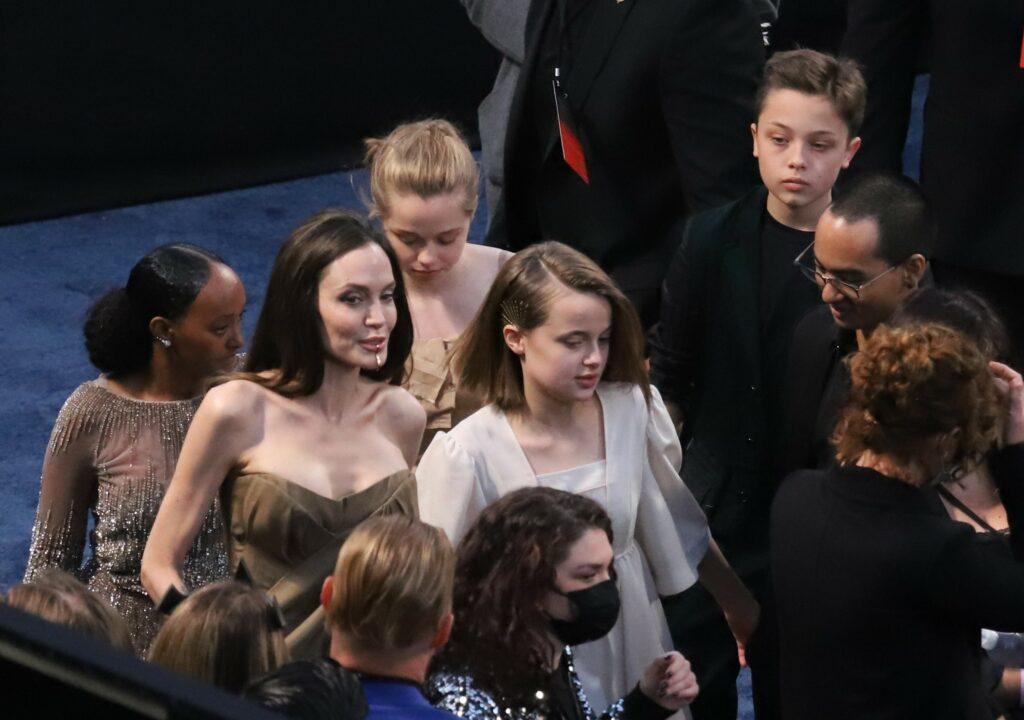 Zahara, meanwhile, looked divine in a silver dress that her mom wore to the 2014 Academy Awards. Shiloh was dressed in a tan, asymmetric number that Jolie wore to the French Apidology Observatory when she presented the astounding female beekeepers with their diplomas as part of the "Women for bees" project. Last but not the least, Knox sported a dark green blazer, skirt, and pants.
Jolie shares her six children with her ex-husband Brad Pitt.
"Eternals," a Marvel film directed by Oscar-winning director Chloé Zhao, also stars Kit Harington, Salma Hayek, and Kumail Nanjiani.
The film will hit theaters on November 5.