The highly anticipated moment of Kim Kardashian's "SNL" debut finally arrived last night, and all eyes were on the reality star to see if she would indeed deliver.
Kim started the night with a hilarious monologue that took heavy shots at her entire family, her sex tape, her divorce from Kanye West, and even OJ Simpson.
The Brutal Monologue
Dressed in an all-pink ensemble likened to the Pink Panther suit, Kim ascended the stairs and wasted no time kickstarting the show. Taking the first shot at herself, the "KUWTK" star quipped, "I know, I'm surprised to see me here too," addressing the initial backlash the internet gave to her hosting announcement.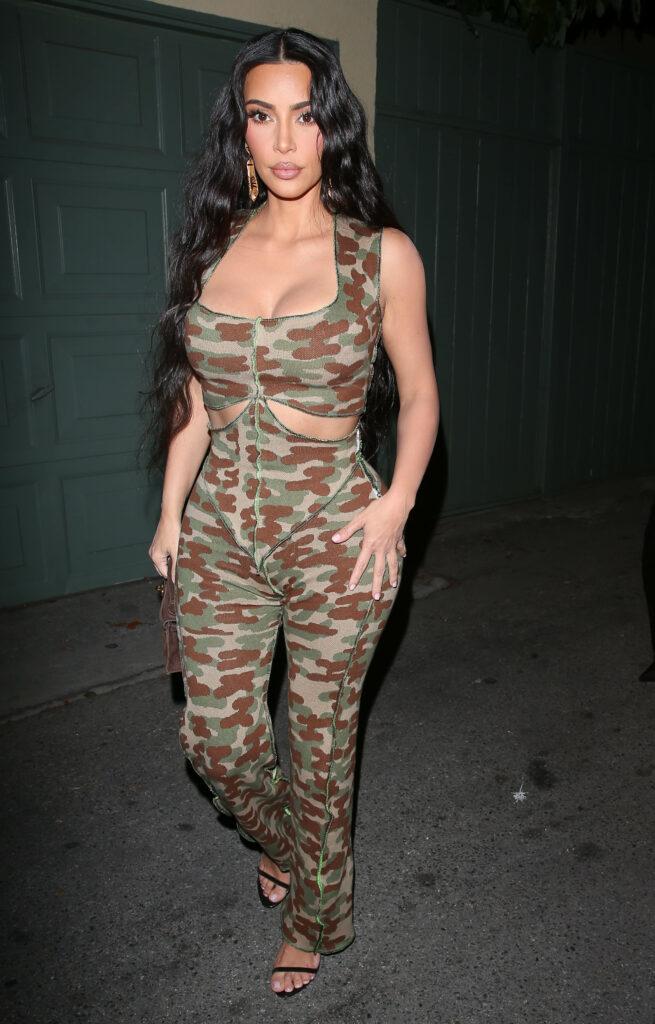 She then proceeded to dish on her infamous sex tape, recalling that when she was approached with the gig, she told the team she hadn't had a "movie premiere in a really long time." Then taking her words back, she said:
I mean, actually, I only had that one movie come out and no one told me it was even premiering. It must have slipped my mom's mind.
Turning up the heat at her sisters, Kim joked that she was "more than the reference photo" her sisters showed to their plastic surgeons. No one was spared, not even her mother's boyfriend, Corey Gamble.
While expressing pride in herself for no one calling her a gold digger, Kim said she asked Gamble how to become one. Her highly-publicized divorce from West was touched on as she joked that their split came down to only one thing, "his personality."
Kim Kardashian West's Monologue! pic.twitter.com/t60b6ZC6cl

— Saturday Night Live – SNL (@nbcsnl) October 10, 2021

She also took a jab at stepmother Caitlyn Jenner and Kanye's political ambition while teasing that she might run for office before saying, "No. We can't have three failed politicians in one family."
Perhaps, the highlight of her monologue was Kim's lines about OJ Simpson. While discussing her law career and her father's legacy, Kim shared that her father introduced her to the first black person she met.
"Wanna take a stab in the back at who it was?" she said with a coy smile to the audience. Then, referencing Simpson's infamous murder case and the stabbing of his ex-wife Nicole Simpson, Kim said:
I know it's sort of weird to remember the first black person you met, but OJ does leave a mark or several, or none at all. I still don't know.
"I don't know how she saw that one coming and not Caitlyn" – Kim Kardashian pic.twitter.com/uWZxG82law

— BlackWrestlingLover96 (@LuvBLKWrestling) October 10, 2021
Fans' Reaction
In no time, the internet was flooded with fans' thoughts about Kim's performance last night. The reality star received praises from fans who expressed shock that she exceeded their expectations.
One fan tweeted, "The way Kim took shots at everybody, and I mean EVERYBODY in her family was hilarious. Glad she has a sense of humor about everything. I enjoyed the show tonight."
Another netizen wrote, "Gotta say, not a Kim fan, but the jokes were good and she was confident. She pulled it off better than some I've seen over the years."
OJ jokes? Really!??….
LAME.

— Lena Santorini ☠️🇬🇷🖤 (@SantoriniBoo) October 10, 2021

One fan even described her monologue as "one of the best in years," while another user teased, "Did I just like something Kim Kardashian did? Lol."
However, it wasn't all words of adoration for the first-time host, as many users called her out for joking about OJ. Some described her performance as "stiff and robotic" with a lot of cringes.